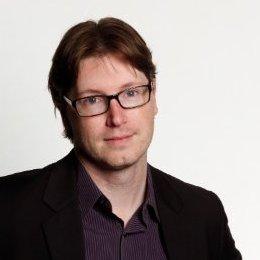 WEC18 Speaker Profile: Mel Robbins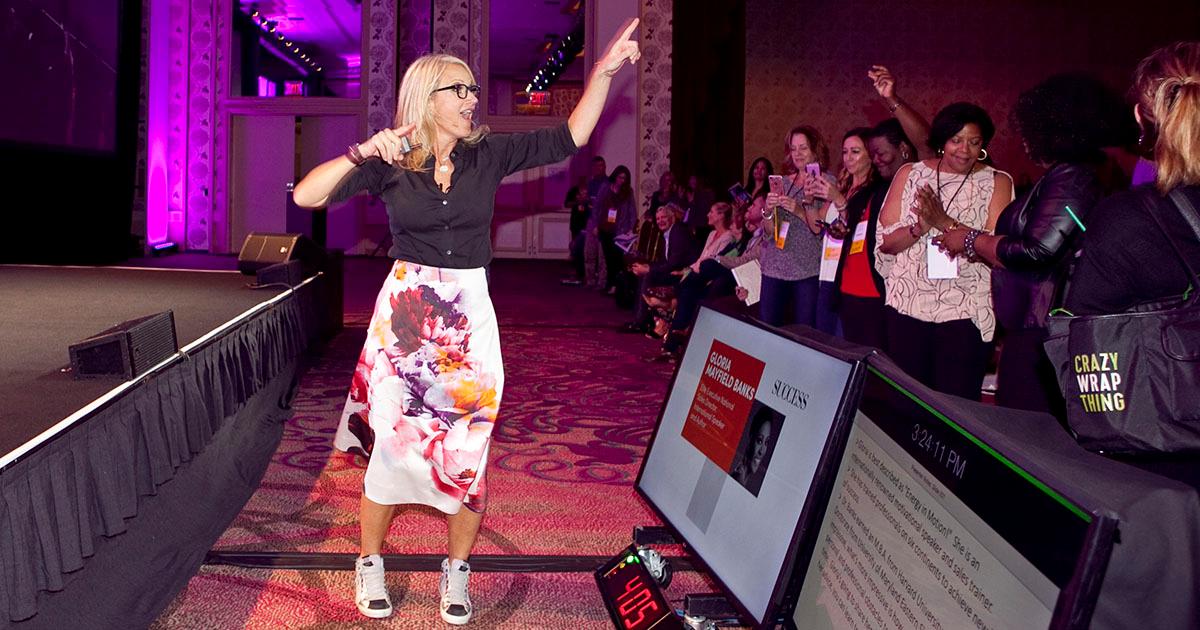 Our brains often work against us. So says Mel Robbins.

"Our brains are designed to protect us, so any new behavior, to a brain, is dangerous, because it means we don't know what to expect, and the brain wants to know everything," she says. "Even when the change we are trying to make is a positive one, the brain will resist it. That's why you will never 'feel' like changing."

Robbins says that it's only when you learn to identify that resistance and use strategies to work around it that you'll start to change. And the strategy she suggests is the "5 Second Rule," which WEC attendees will learn more about during her "Train Yourself to Take Action" session.

"The 5 Second Rule is a form of metacognition that helps you control your reaction to triggers. It is also considered a 'starting ritual' that prompts new, positive habits to form," she says. "People are using the 5 Second Rule to be more productive, build confidence at work, improve performance, increase sales, cure anxiety, manage addiction and even treat PTSD."
Robbins' path toward being one of the world's foremost motivational speakers wasn't a straight one. She moved from New York to Boston with her husband and was unable to practice law as a criminal defense attorney.

"I started working with a startup tech company, and [my husband] Chris eventually quit his job and opened a pizza business," she says. "Chris and his business partner expanded the pizza business, which ended up being a bad move. Tech was not for me, so I was miserable."

It was during these struggling years that she created the 5 Second Rule, using it to turn her life, marriage and career around.

"An article I was featured in caught the eye of executives at ABC, CNBC and other media companies, and eventually I was offered a show on FOX that never made air time," she says. "Then, CNN recruited me to join their roster."

The media exposure led to a TEDx talk invitation.

"That talk (my first speech ever) has gotten nearly 13 million views, and organically launched my speaking business and the media company I now run," Robbins says.

Her inspiring talks illustrate that people often buy into the lie that we must feel motivated before beginning to change.


---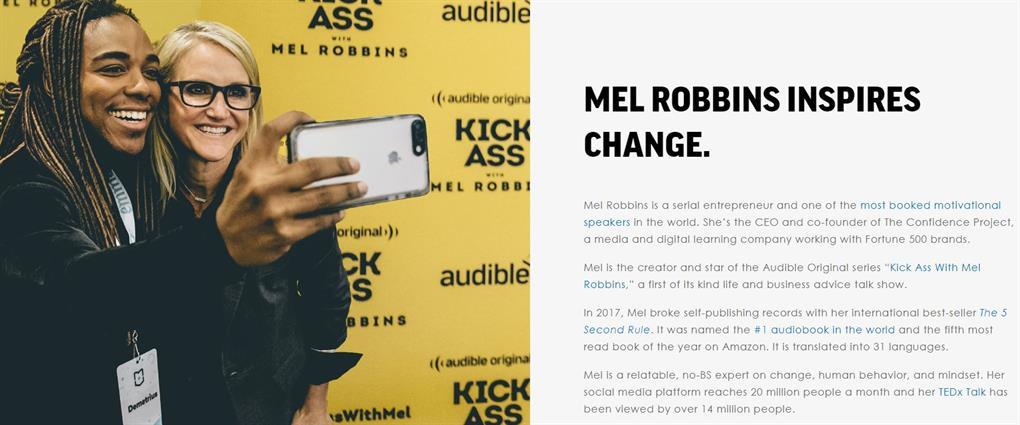 Source: Mel Robbins website at https://melrobbins.com/
---
"It's total garbage. The moment you need to take a risk, try something new or stick your neck out—you won't feel motivated, you'll feel nervous," she says. "What I teach people around the world is that feeling nervous is normal, but you always have a choice about how you act, and the 5 Second Rule is a life-changing tool that will help do that."
Once you embrace the idea that you can feel nervous or stuck and still act, Robbins says, you'll have tremendous power.
"Our social media feeds are filled with people cresting summits and crossing finish lines, and we believe these people are just endowed with boundless energy and confidence," she says. "This is baloney. Every single successful person faced a time in their lives when they did not want to get out of bed or take the first step toward their dreams. They failed when they tried. They got down on themselves. Felt overwhelmed. And then, they made a five-second decision to move forward anyway—and that changed everything."
WEC18
"Stop planning meetings, start designing experiences" is the theme of the 2018 MPI World Education Congress (WEC), June 2-5 in Indianapolis.

People gain experience when they have one. WEC in Indy is a completely redesigned education and engagement program unlike anything MPI has done before. In an entirely new design setting, it will ignite new ideas and connect you with the people you need to meet. With this new format, MPI is taking risks so you don't have to.

The new WEC Pep Rallies will get you pumped up with activities and inspiration. They'll kick-start your day of education and re-energize you for the evening! Dena Blizzard will emcee the pep rallies and will be joined each time by a keynote speaker, including Dustin Garis ("Revolt Against Routine and Create Memorable Experiences"), Michael Cerbelli ("Michael Cerbelli's The Hot List™ 2018"), Duncan Wardle ("Think Different - Creating Better Ideas Faster and Enjoying the Process Along the Way") and Mel Robbins ("Train Yourself to Take Action").

Learn more about WEC and register at www.mpiweb.org/wec.