Curbside pickup. Virtual experiences. Meal donation programs for first responders. All good things, but not necessarily what first comes to mind when one thinks of the tourism and meetings juggernaut Orlando. But life during the coronavirus pandemic has brought on a shift in focus for many industries, and Visit Orlando is proving that through key partnerships and the ability to remain flexible, they can help the local community, keep future/return visitors in the know about what's going on in the region and prepare for the return of face-to-face gatherings.
"We've spent a lot of time and resources sort of pivoting and really focusing on how we help our members and local community," says Mike Waterman, chief sales officer for Visit Orlando. "We just launched the Tourism Help Hub, which provides tourism industry folks, local businesses, consumers, convention groups and other stakeholders with industry updates and resources. Whether you're a restaurant, a hotel, a vendor, anybody—members and nonmembers have access to this site—[you'll find] member-to-member discounts, restaurant discounts and information about what we're doing in the community for healthcare providers and first responders. It really is a very robust website, and we update it daily."
Visit Orlando also partnered with Orange County and Mayor Jerry Demings to create #407 Day on April 7, named in honor of the local area code.
The Orange County Convention Center set up a coronavirus testing facility in their parking lot.
"We created a large social media campaign to encourage takeout, delivery and curbside pickup for all of our local restaurants," Waterman says. "It was so successful that we're working now to transition that into #407 Days to encourage support for our restaurants in the days and weeks ahead. Today, we have over 480 of our restaurants as part of that special program."
He says the Orange County Convention Center (OCCC) is donating food on a weekly basis through Second Harvest Food Bank and New Covenant Baptist Church.
"They've also set up a coronavirus testing facility outside in their parking lot, so collectively between Visit Orlando and the convention center, we're really trying to step up and handle the needs of our community as best we can," Waterman says.
He says it has been remarkable to watch the local attractions and hotels pivot to help the community, with theme park restaurants offering meal donation programs for first responders and healthcare workers, SeaWorld offering grades K-12 the opportunity to virtually explore the world of animals and nature, Universal Orlando Resort donating truckloads of perishable food items to the Salvation Army, the Walt Disney World Resort donating all excess food inventory to Second Harvest and many I-Drive and theme park area hotels being open for first responders with special rates.
Rosen Hotels & Resorts operates eight hotels in the Orlando area, including three massive convention properties (two of which are connected to the OCCC) that offer a combined 700,000 square feet of meeting and event space and more than 3,600 guest rooms. The company has temporarily suspended operations at seven of its hotels through May 14, as the 1,334-room Rosen Centre and the Shingle Creek Golf Course remain open in compliance with recommended social distancing guidelines.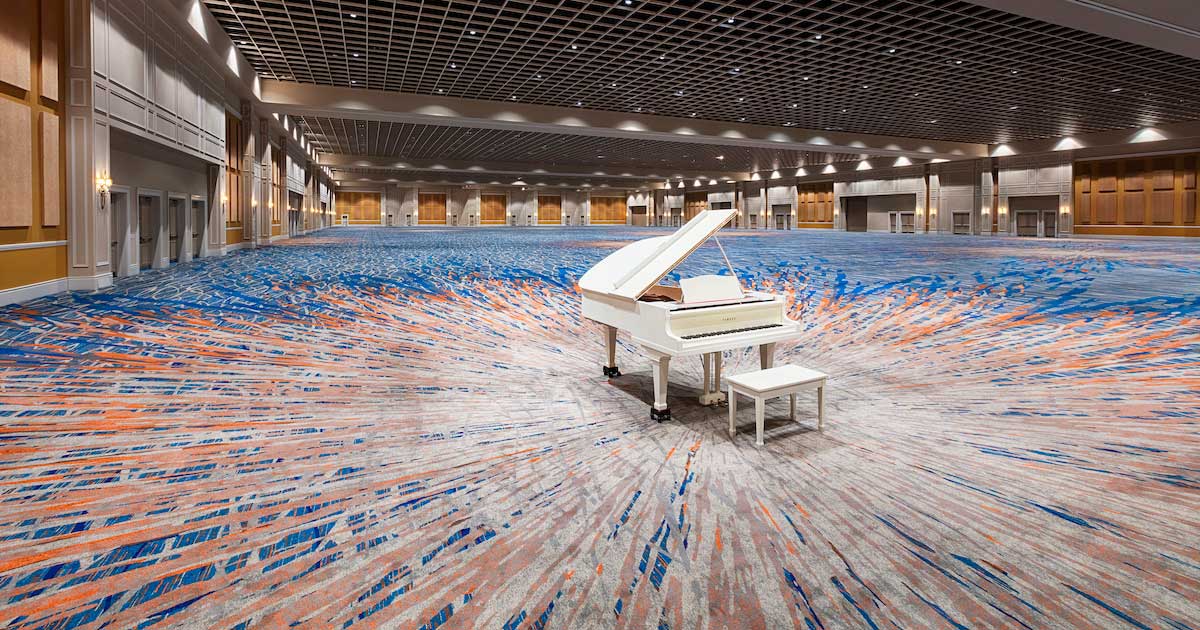 Leslie Menichini, VP of sales and marketing for Rosen Hotels & Resorts, says the company is focused on the wellbeing of associates and the community.
"The Family Outreach Center remains open to assist associates with access to assistance, inclusive of a food pantry, and the learning department along with risk management and our medical center have developed extensive training to keep our associates safe," she says. "We have donated 30 pallets of food to Second Harvest, and we continue to connect with associates not working or working from home with virtual wellness programming."
In addition to helping the community during a time of great need, CVBs and hotels must, of course, also focus on their core business.
"Our convention sales and services team as well as our partners over at the OCCC are on the phone daily with our customers that are planning to come into the building in the next six to eight months just walking them through what's going on," Waterman says. "But, knowing most everybody is sort of stuck in a shelter-in-place environment, we've created virtual experiences that really are amazing—a great distraction for visitors who are missing out on this fun and remarkable experience that you get when you come to Orlando. We also created some new Zoom backgrounds, which is a fun Orlando touch for all these video calls we're doing. We're really trying to keep the content that we're providing relevant and give customers and attendees something to focus on and be distracted by."
Until the properties are fully reopened for groups, many guests won't be able to experience some of Rosen's recent enhancements—a modern new lobby at the 800-room Rosen Plaza, 1,501 refreshed guest rooms at Rosen Shingle Creek, 1,334 modernized guest rooms at Rosen Centre and newly carpeted meeting and event space at all three convention resorts (pictured above: Gatlin Ballroom, Rosen Shingle Creek). But in the meantime, the sales team is "all intact and actively engaged, adjusting as each day brings new needs and considerations and using creative means to accommodate the ever-changing world in which we currently live," Menichini says.
"The team is focused on deepening already established relationships, actively making personalized calls to ensure the health and wellbeing of our clients," she says. "In addition, the company created a 'Feel the Love' video filled with personal messages of hope, inspiration and fun from sales team members to our meeting industry friends. For those clients in need of booking meeting and event space at the three convention hotels, the company created a few useful tools. Video tours provide a comprehensive view of each property and are easily accessible on each hotel's website. In addition, for definites or new business, live real-time virtual video tours hosted by an associate onsite at each hotel are currently replacing traditional in-person 'sites.'"
Coronavirus Resources: FREE Education from the MPI Academy
So what else can visitors look forward to when back on the ground in Orlando? The JW Marriott Orlando Bonnet Creek Resort & Spa, which was due to open in March but will still open this year with 516 guest rooms and 50,000 square feet of meeting and event space; Universal's Endless Summer Resort - Dockside Inn and Suites, a 2,050-room property that was nearly ready to open when the pandemic hit and will debut when Universal Orlando Resort reopens; and a new rollercoaster coming soon to SeaWorld.
Also moving forward is a $605 million expansion of the OCCC.
"We anticipate groundbreaking will happen this September, and that project is due to open in late 2023," Waterman says. "A big highlight with the convention center expansion is we're building this 200,000-square-foot, multipurpose space that can be used for TED Talks, concerts, volleyball tournaments, exhibits and more, in addition to an 80,000-square-foot ballroom."
The OCCC will total 2.3 million square feet of exhibition space when the expansion is completed.