Rivers mean transformation and life, and have shaped our civilizations and physical world. Their energy powers communities and politics, provides transportation and work and offers delightful forms of recreation. When attention, intention and care nourish a river, a city flourishes.
Joseph Conrad wrote that rivers carry "the dreams of men, the seed of commonwealths, the germs of empires."
In the last few years, development, redevelopment and an exuberant economic renaissance have been occurring in the Michigan riverine cities of Grand Rapids, Lansing and Ann Arbor, increasing tourism and meeting and event business.
These cities all have a river (or rivers) running through them, and when a diligence of care is expended by its residents to these immensely valuable natural resources, definite revitalizing ripple effects flow into all aspects of their communities and economies. These cities are clean, walkable, friendly places that offer outstanding food and craft beers (Michigan has more than 300 craft breweries), vibrant art scenes and an emphasis on education and technology.
Ann Arbor/Ypsilanti
Ann Arbor and Ypsilanti (Destination Ann Arbor) both steward the green-gray Huron River that flows eastward into Lake Erie, offering miles of water for enjoyment. In 2012, Ann Arbor completed a river project that created a series of nine drop pools to form the "Argo Cascades," easy even for a beginner kayaker (and a great team-building exercise). Sounds of the city melt away on the river, and are replaced by paddle glides, birds and the song of the trees.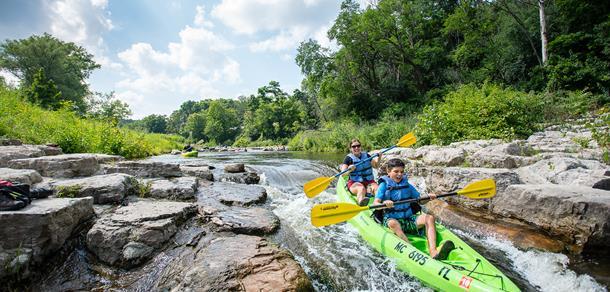 Photo source: www.a2gov.org
But Ann Arbor is also bustling with interested developers.
Hyatt Place Ann Arbor opened in fall 2017 with 142 guest rooms and 1,500 square feet of meeting space, and plans have also been approved for a 107-room Homewood Suites by Hilton.
Ann Arbor/Ypsilanti are noted for progressiveness, art, venues, restaurants and breweries such as Blue Racer at Ypsi Ale House.
"From bold murals to larger-than-life sculptures and from quirky eateries to culinary powerhouses, Ann Arbor is bursting with local flavor and known as a catalyst of creativity in the Midwest," says Mary Kerr, president and CEO of Destination Ann Arbor. "Conference and meeting attendees visiting Ann Arbor enjoy unique and interesting venues, out-of-the-box team-building activities and a progressive, entrepreneurial culture that they won't soon forget."
Margaret Wyzlic, CTA, director of communications and public relations for Destination Ann Arbor, says popular venues include Ypsilanti's Historic Freight House, Ann Arbor's University of Michigan Art Museum, Cornman Farms and Belleville's Yankee Air Museum, where guests can take flight in the Yankee Warrior, a WWII B-25 Metro Bomber, and view the University of Michigan's stadium (The Big House, another popular group option) from the air.
"I really love [the Yankee Air Museum] because there's so much history and heritage there," she says. "It's home to Rosie the Riveter and home to the Willow Run bomber plant that was so instrumental in the war effort during World War II."
Wyzlic cites the synergy of the presence of the University of Michigan, its diverse population and the wonderful farm scene of southeastern Michigan as key parts of Ann Arbor's food offerings.
"We say you can eat around the world just by staying in the downtown Ann Arbor area," she says.
Grand Rapids
Diversity is a potent power in Grand Rapids, as well. Tom Bennett, vice president of sales and service for Experience Grand Rapids, says that along with a diversified and healthy economy (medical, high tech, art, biotechnology, education and advanced manufacturing), a combination of factors helps make Grand Rapids increasingly attractive for meeting planners.
"The city is clean; walkable; has outstanding facilities, hotels, restaurants and craft breweries; and offers a great value proposition," he says.
One of the biggest events in Grand Rapids is the annual ArtPrize (shifting to biennial after this year). ArtPrize is the world's largest art competition, with more than US$500,000 prize money, nearly $300,000 in grants and drawing around 500,000 people during a three-week period in the fall.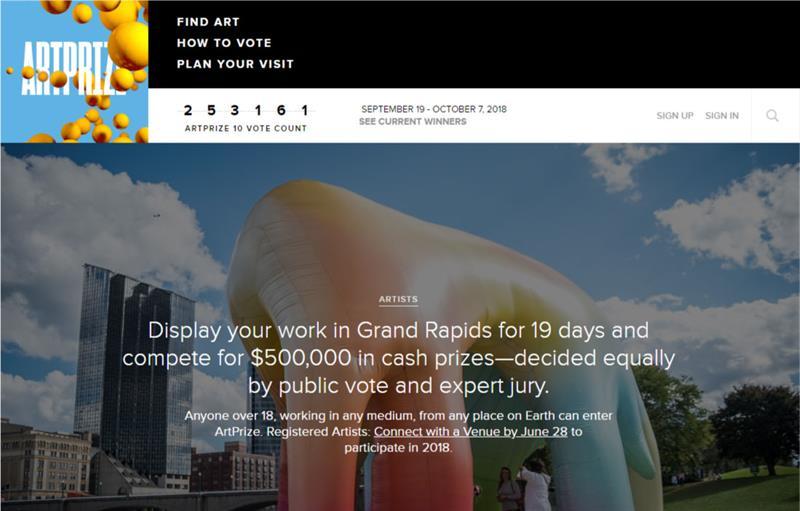 Because of its growing number of visitors, Grand Rapids' room count will increase from around 7,000 to nearly 8,000 with the addition of new hotels recently opened and more opening in the next two years. Two of the new hotels that have opened in the Grandville suburb in the last year are the 80-room Best Western Plus Grand Castle Inn & Suites and the 100-room SpringHill Suites by Marriott.

Opening in and near downtown Grand Rapids in 2019 are the AC Hotel by Marriott (130 guest rooms), the Embassy Suites by Hilton Hotels (246 guest rooms), Hyatt Place Grand Rapids (160 guest rooms) and Staybridge Suites (110 guest rooms). Adjacent to downtown's $110 million Studio Park development will be the 164-room Canopy by Hilton, opening in early 2020.
Since the 20 Monroe Live event space opened in 2017, it has hosted more than 250 events and DeVos Place is also being eyed by developers for a possible expansion. A recent proposal includes adding a 400-room hotel with 115,000 square feet of exhibit space.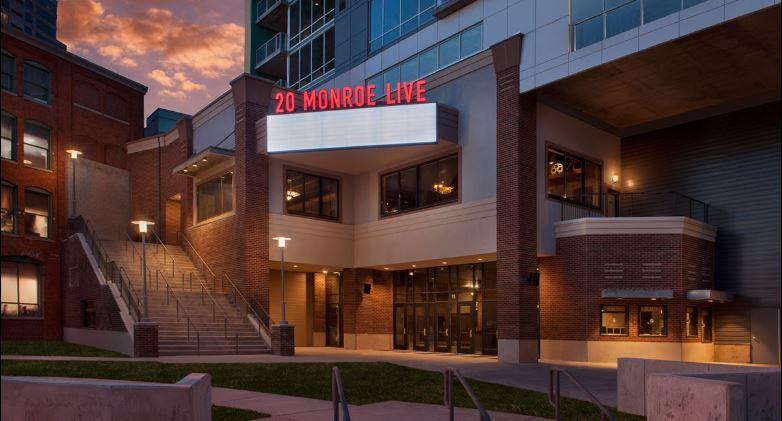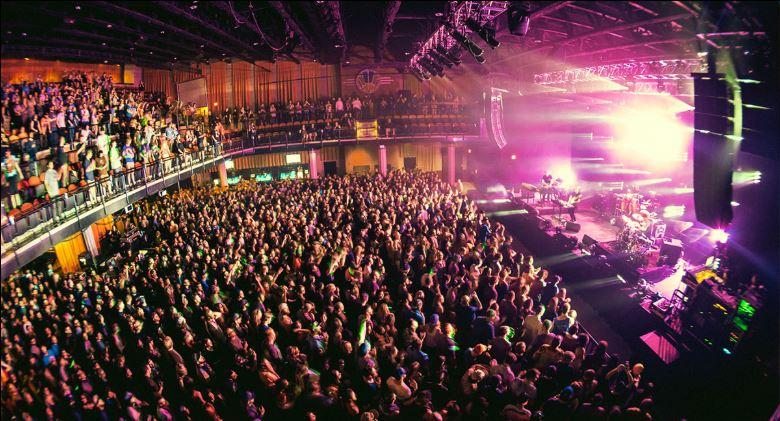 Photo source: 20monroelive.com
According to the Grand Rapids Business Journal, nearly $1.2 billion of development has been completed, scheduled or is planned for Grand Rapids, including the 120-room Hinman Tower hotel and Grand Valley State University's new Cook-DeVos Center for Health Sciences along the Medical Mile.
Bennett points to Grand Valley State University (one of 15 institutions of higher learning in the area) as having one of the best hospitality programs in the U.S., along with the Secchia Institute for Culinary Arts (which also offers a craft brewing program) at Grand Rapids Community College. These programs serve as an incubator for the local hospitality industry.
"A lot of the chefs that graduate from there stay in Grand Rapids as well," Bennett says.
Another resource in Grand Rapids, the Grand River, is getting some much-deserved attention. Plans are moving forward to not only restore the rapids to the Grand River, but also to create riverside parks, green spaces and other recreational attractions for both residents and visitors. Tentative plans call for completion by 2025.
Also proposed is a state project to create 250 navigable miles of the Grand River, Michigan's longest river.
Lansing
Lansing, the capital of Michigan about an hour east of Grand Rapids (and within 90 minutes of 90 percent of the state's population), is also located along the Grand River and includes its tributary, the Red Cedar River (which passes through the campus of Michigan State University in East Lansing).
"Like many cites, we didn't take advantage of the great asset of the riverfront space, in the heart of downtown," says Jack Schripsema, president and CEO of the Greater Lansing CVB.
That will hopefully soon be remedied with public and private funds planned to create the new Rotary Park, spanning from the Lansing Center convention space to the HUB at Shiawassee Street Bridge, a downtown concert and event space. Proposals include renovating the plaza, adding seats, a sand pit, a fireplace and a "lighted forest."
Developers have also been taking notice of Greater Lansing's $1 billion tourist industry.
"We've had a mini-development boom here in the greater Lansing area. It's related to the increased demand that we've seen," Schripsema says.
Holiday Inn Express, a 77-room hotel, opened in Okemos in January. A 139-room Homewood Suites by Hilton Landing Eastwood opened in May—the third hotel to open in the Eastwood area of Greater Lansing in the last three years.
East Lansing is scheduled to open a 194-room Graduate Hotel in late 2020, with 6,480 square feet of meeting space.
Schripsema lists the factors for Lansing's draw for meetings as its central location, people resources (such as the 500-member Certified Tourist Ambassadors), a sizeable pool of speakers (drawing from the legislature, professors and researchers) and a relatively moderate cost. Having excellent restaurants, cool neighborhoods, walkability and a family-friendly atmosphere helps bring people together.
Some of those people returning with their families might also feel welcome because of an interesting project of creating sensory-friendly environments for neuro-diverse individuals, spearheaded by the CVB. Schripsema says that they take this seriously.
"As far as we can tell, we're kind of trailblazers—the first convention center in Michigan to offer this service," he says. "It's a huge underserved market."
CVB began by bringing in experts to train their staff and the word spread. At least 15 other event-related businesses in Greater Lansing, from Abrams Planetarium to the Radisson Hotel, have had their staff complete training with specialized instructors. Environments have also been adjusted to lower sound and modulate lighting.