With the organic architecture of the Elizabeth Quay pedestrian bridge nestled against glassy waters and golden beaches that encrust the coast, Perth, Australia, has become a prime destination for the meeting and event industry. But the road was not easy, and recognition was hard-won.
In 2003, Western Australia mining resources and demand from China pumped buckets of riches into Perth. A mere 12 years later, low demand slowed the mining industry to the point of near collapse. In Perth, projects with high prospects became relics of a dream. However, within the last four years, thanks to the resilience and persistence of Perth, dreams have become reality and the city has had an immense comeback with new event spaces and better accessibility, with more to come.
Crown Perth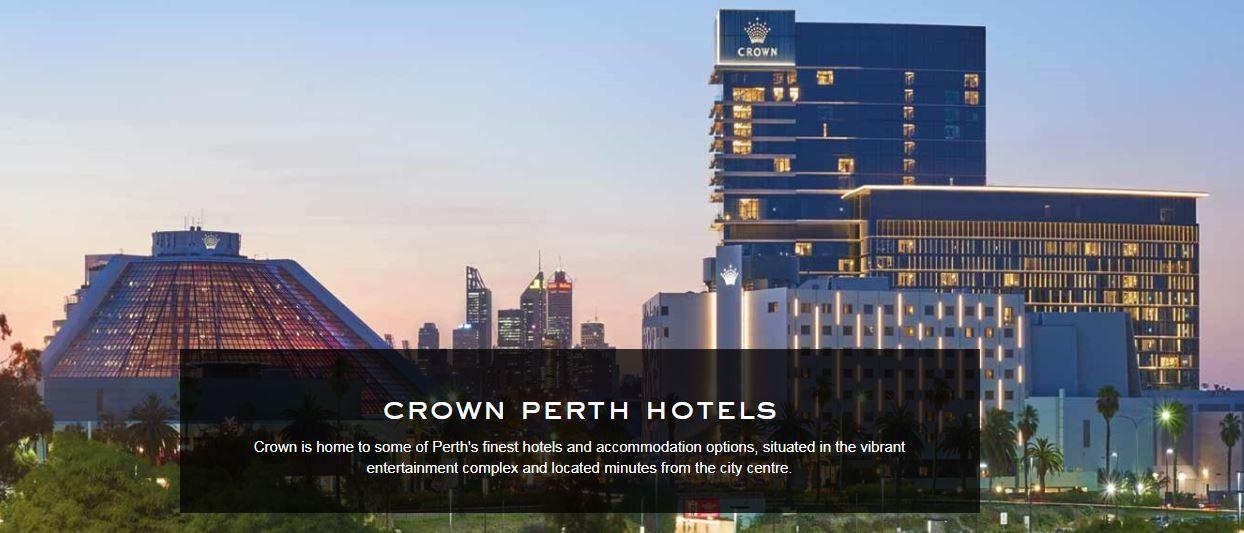 Source: www.crownperth.com.au/hotels
Among the event spaces that have been constructed recently, Crown Perth is what Karen Livermore from ID Events Australia calls a "standout product." Crown Perth is a massive integrated resort with three hotels—Crown Towers, Crown Metropol and Crown Promenade—39 restaurants and bars, a 2,300-seat theater and six traditional event spaces. The largest of the six event spaces is the 22,000-square-foot, column-free Crown Ballroom. Crown Perth also offers many resort amenities as event spaces, such as both the Crown Metropol and Crown Towers' pools, with approximately 22,000 square feet of event space each. With its Crown Spa, Crown Casino and the plethora of bars and nightclubs, guests don't have to leave the resort to both work and play.
Right next to the Crown Perth on the Swan River, the massive, three-year-old Optus Stadium often houses professional soccer games and can seat up to 60,000 spectators for concerts or sports events. The stadium also has more than 18 specially designed event spaces, with its largest, the River View Rooms, holding up to 2,000 guests.
Adjacent to Optus Stadium and Crown Perth, the Perth Convention and Exhibition Centre is strategically located within walking distance of the Elizabeth Quay and King's Park. This sprawling space contains 23 multi-functional rooms across three levels. River View Rooms and BelleVue Ballrooms offer a view of the Elizabeth Quay and Swan River, and the Riverside Theater can hold up to 2,500 guests. This area also hosts six exhibition pavilions with almost 30,000 square feet of column-free rooms that can be combined for a total of approximately 180,000 square feet.
If you can't choose which event space is best, the great thing about these locations is that they are close enough together to experience all of them. With so much to experience in Perth, Karen Livermore, director of sales and events for ID Events Australia, put together an incentive program that would incorporate them all.
"We're looking at doing a welcome event around Crown Perth's pool as well as a range of activities including sailing, walking tours of Freemantle and Kings Park and a trip to Sandleford Winery in the Swan Valley," Livermore says. "We anticipate we'll hold dinners at restaurants in Cottesloe, Scarborough and possibly Freemantle, and finish with a gala farewell at Optus Stadium."
Sublime Nature
In addition to the state-of-the-art new event spaces, Perth has some of the most can't-miss landmarks that nature and man have to offer. One such landmark is the 1,000-acre King's Park and Botanic Garden—150 acres larger than Central Park—that houses more than 3,000 species of native plants and more than 70 species of birds. While it may seem like just a walk in the park, this space has a lot to offer for events.
"You can incorporate the park into your event in several ways, including immersing yourself in the Aboriginal culture during a private walking tour or holding an event in one of the many event spaces at Fraser's, located in the park," says Penny Lion, executive general manager of events for Tourism Australia,
Roughly 20 miles from King's Park sits Swan Valley, featuring more than 40 wineries and vineyards and home to indigenous black swans.
"The location also has a number of unique venues as well as a variety of wineries and boutique food options—all of which can be used for catering," Livermore says.
If you're craving the beach experience, 20 minutes from Perth is Cottesloe Beach with pure white sand and turquoise waters that are great for snorkeling and surfing. The nearest hotel, Cottesloe Beach Hotel, has a stylish and laid-back atmosphere with seven event spaces of varying sizes. The largest space, The Beach Club, can accommodate up to 850 guests and includes a mixology cocktail bar. For formal events, Cottesloe Beach Hotel houses the intimate Sunsets Room that features a private bar with a view of the Indian Ocean.
Cottesloe Beach is also a stone's throw from Rottnest Island. While the name leaves something to be desired, the island is a gem of russet earth with a stunning coastal landscape and the opportunity to get a selfie with the famously chipper Western Australia quokka—a small, wallaby-like marsupial. And there's plenty of transportation that can get attendees to the island.
"Charter vessels can provide unique access and lunch options," Livermore says. "While the island itself has a fabulous pub and a number of offsite locations that can be transformed into tailored event spaces."
Arriving in 2020
One of the projects to see herculean resilience after the bust is the Perth City Link, a US$950 million urban renewal and redevelopment project that has recently reconnected Perth's Central Business District with Northbridge for the first time in 100 years.
Perth has undergone an unprecedented level of infrastructure [development] and, as a result, it has welcomed a range of new venues and hotels," Lion says. "The precinct, located within walking distance to the Perth Convention and Exhibition Centre and Elizabeth Quay, will be home to restaurants, shops, public spaces and accommodations—providing meeting planners with even more options."
A new addition to the City Link project, the Perth Hub, is set to be completed by 2020. According to Lion, the Hub will consist of two towers—a 30-story, mixed use building that will have 314 apartments and a 23-story building that will house the 263-room Dorsett Hotel.
Additionally, in October, the Ritz-Carlton hotel brand will be making its return to Australia. The 204-room Ritz-Carlton Perth at Elizabeth Quay will have a range of event venues including a grand ballroom and a rooftop bar that will be open to the public with a view overlooking the Swan River.
With the recent development and more to come, Perth is no longer considered the most isolated city on the Australian continent. According to Livermore, Qantas recently made history with nonstop London to Perth service, making Perth Australia's closest city to Europe and Asia.
"Today, with the internet, email and other technological advancement, Australia is actually much closer than you think," she says.