ILEA launches On-Demand Education Program in Partnership with MPI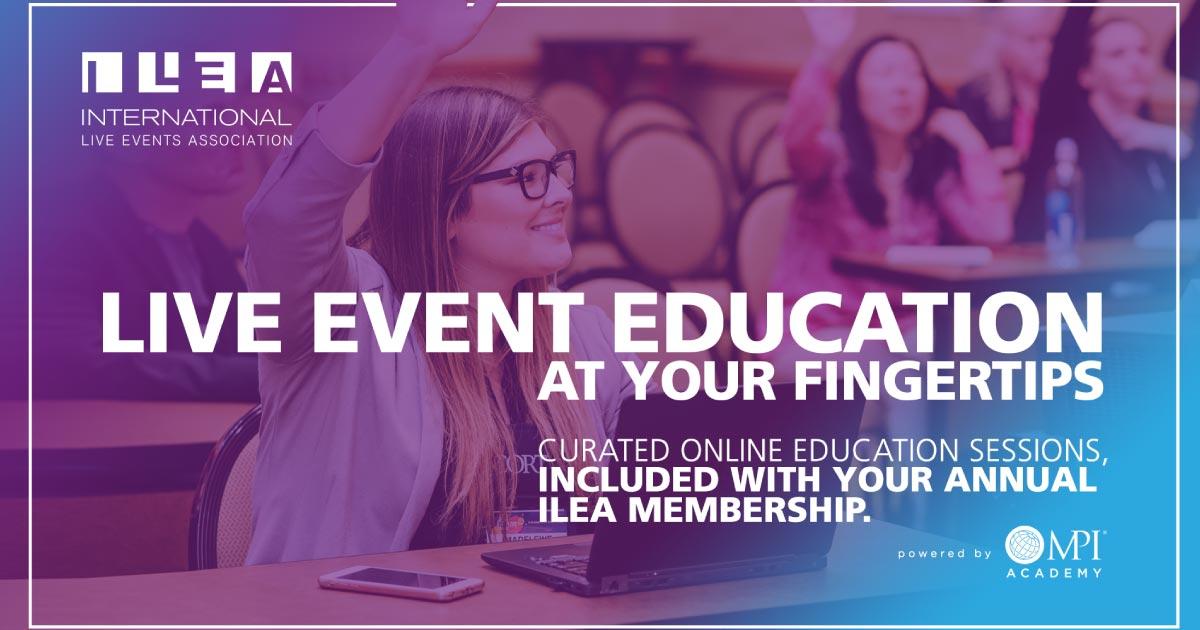 DALLAS, August 8, 2019 – The International Live Events Association (ILEA) and Meeting Professionals International (MPI) announced today a collaborative partnership that will bring a new education platform offering over 60 curated sessions based on the ILEA core curriculum to ILEA members. The online platform offers an extensive library of insightful education to meet the evolving needs of live event professionals.
"This strategic partnership enables ILEA to deliver carefully curated content to enhance members' personal and professional development opportunities. We are proud to collaborate with MPI, a recognized leader in the field of education in the meetings and events industry, and to further enhance the value that ILEA provides our community," said Jennifer Trethewey, CSEP, President, International Live Events Association.
Focusing on the commitment by both associations to providing unparalleled education and enhancing professional development, the content aligns with the associations' core mission and focuses on key areas that matter most to ILEA members. The extensive list of educational opportunities includes topics such as finance, business, risk management, safety and security and more.
"We are thrilled to collaborate with ILEA, an organization which shares MPI's commitment and passion to bring impactful education to the events industry," said Paul Van Deventer, CEO of MPI. "Our collaboration will allow us to inspire and motivate members of the ILEA community by offering robust and innovative educational opportunities while enriching their future."
Access to ILEA's educational platform is included with an annual ILEA membership and will launch in September.
About the International Live Events Association (ILEA)
The International Live Events Association (ILEA) is a global community of thousands of creative event professionals whose skills, expertise and professionalism power some of the most recognized and respected live events around the world. For creative event professionals who seek deeper connections with like-minded individuals, ILEA provides the education and collaborative networking opportunities that achieve creative experiences. For more information, visit www.ileahub.com
About Meeting Professionals International (MPI)
Meeting Professionals International (MPI) is the largest meeting and event industry association worldwide. The organization provides innovative and relevant education, networking opportunities and business exchanges, and acts as a prominent voice for the promotion and growth of the industry. MPI has a global community of 60,000 meeting and event professionals including more than 17,000 engaged members and its Plan Your Meetings audience. It has more than 75 chapters and clubs in 70 countries. "When we meet, we change the world." www.mpi.org
Contact:
MPI: Mary Lester at communications@mpi.org or 214-490-3480
ILEA: Ande Leslie at aleslie@ileahub.com or 312-673-5534