MPI Wins Prestigious Best Conference Award from Best Events Award World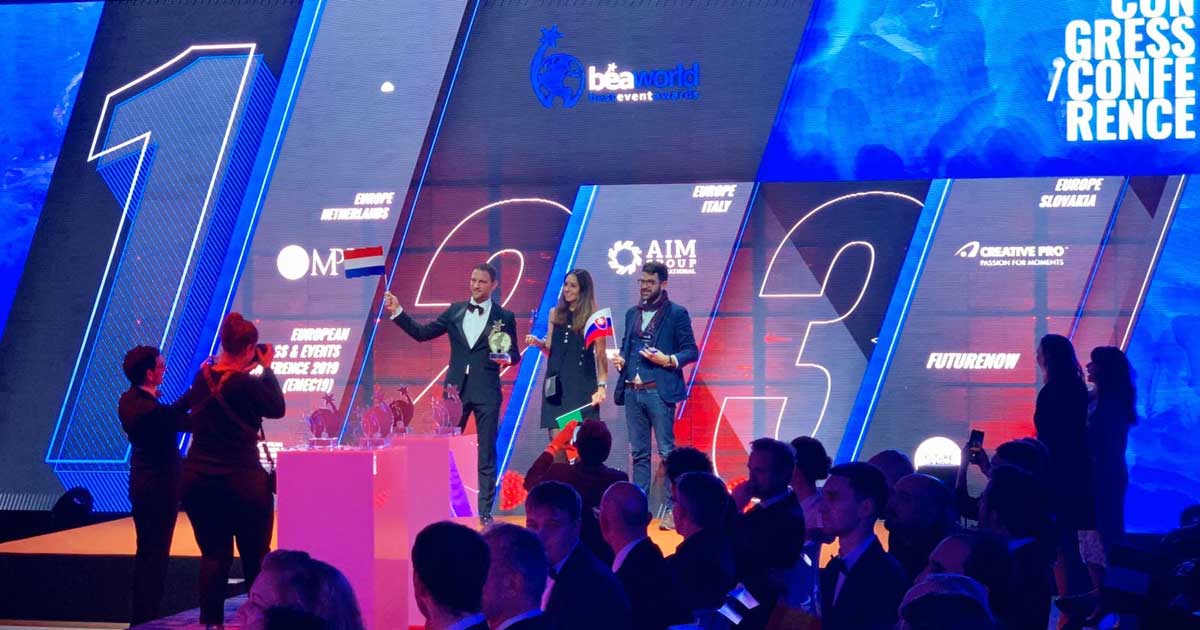 DALLAS, December 6, 2019 — Meeting Professionals International (MPI), the largest meeting and event industry association worldwide, is proud to announce that the MPI Netherlands Chapter won the Best Conference Award by Best Events Award (BEA) World for the innovative European Meetings and Events Conference 2019 (EMEC) in The Hague. EMEC is the premier conference for meeting and event professionals in Europe, and brings MPI executive education and inspiration to the European meeting and event community.

The theme for EMEC '19 was "changing the game," which MPI took to heart in creating the immersive design that proved to be a success with both the BEA and EMEC attendees. The innovative conference focused on changing the way meeting professionals meet, experience and learn by having attendees interact with one another throughout the entire conference. Attendees networked and took deep dives into one of seven interactive learning journeys, along with sessions and keynotes, that helped different parts of the industry learn from one another. A key ingredient to the success of the conference was in the element of surprise with components such as a surprise youth choir, a hidden bar, and an escape room.

"It is such a great achievement of everyone involved in EMEC19 to be recognized as best conference at BEA world festival," said Gijs Verbeek, executive director of MPI's The Netherlands Chapter. "The competition was really strong and full of great cases. This award really is for all the volunteers and partners who made this event happen."

BEA World was founded in 2006 by the ADC Group to communicate the importance of events and conferences and has since become one of the most prestigious international event recognition initiatives to celebrate "the best creativity and innovation applied to events," according to their website. It was the creativity and innovation of this year's carefully-designed EMEC that caught BEA's attention and secured the position of the best conference of 2019.


"We at MPI are extremely proud to have a community of event professionals who are an inspiration for innovation and professionalism," added Angeles Moreno, strategic development senior advisor for Europe. "The Netherlands chapter took the lead in designing and executing EMEC19 in The Hague, without a budget and with a team of dedicated volunteers. We admire that passion for an outstanding job."

According to Moreno, EMEC was also a success because the event designers listened to the participants needs. "Each of the touch points was carefully designed and executed with maximum excellence," she said.

The win for EMEC marks the second year in a row that MPI's diligence in creating immersive and interactive conferences has garnered a prestigious award for an event. In 2018, MPI's World Education Congress (WEC) won the Association Meeting Eventex Award due to its creativity, innovation and effectiveness.
EMEC20 will take place on February 9, 2020 at the Navigation Pavilion in Sevilla, Spain. To register, visit www.mpi.org/events/emec.

About MPI
Meeting Professionals International (MPI) is the largest meeting and event industry association worldwide. The organization provides innovative and relevant education, networking opportunities and business exchanges, and acts as a prominent voice for the promotion and growth of the industry. MPI has a global community of 60,000 meeting and event professionals including more than 17,000 engaged members and its Plan Your Meetings audience. It has more than 70 chapters and clubs with members in more than 75 countries. "When we meet, we change the world." www.mpi.org

Media Contact: Mary Lester, communications@mpi.org; 214-490-3480