Robust WEC Press Conference Schedule Offered Live via Virtual Platform to Media, Regardless of Registration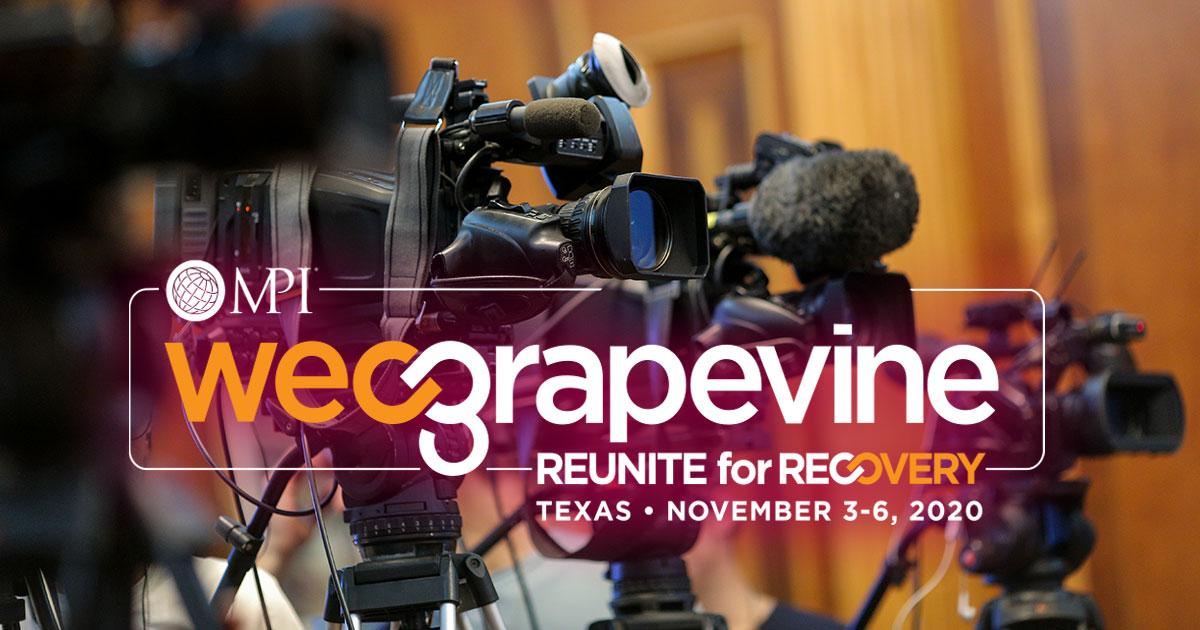 Headlined by MPI, press conference schedule includes cross section of industry organizations
DALLAS, TEXAS, October 30, 2020: With World Education Congress (WEC) Grapevine, the signature annual event for Meeting Professionals International (MPI), just days away from its November 3, 2020 launch, MPI announced an impressive press conference roster and the ability for non-attending media to access each of the broadcasts virtually.
Headlined by their own press conference on Tuesday, November 3 at 3:30P, WEC Grapevine will boast impressive coverage opportunities for media that includes destinations from around the world, hospitality industry brands and industry leaders highlighting relevant updates and advances underway. Taking advantage of WEC Grapevine's 100% live hybrid event approach, all press conferences will be made available through ZOOM for both media attending in-person and virtually and those who haven't registered for the event, yet want to cover the news being shared.
"We felt it was critical for MPI to use our platform at WEC as a means to bring exposure for our entire industry and provide our partners an opportunity to have their voices heard during this critical juncture," said Drew Holmgreen, Vice President of Brand Engagement at MPI. "WEC is the first fully live hybrid event that our industry has been able to partake in, and we wanted to take advantage of that format in order to grant worldwide media access to all the newsworthy updates, progress and innovative advantages that MPI and our partners will be boasting about."
The press conference schedule is detailed as follows (all times CT):
Tuesday, November 3
3:30-4:15P Meeting Professionals International
Wednesday, November 4
10:30A-11:00A Visit Indy
3:30P-4:00P Visit OKC
4:30P-5:00P Marriott International
Thursday, November 5
9:30A-10:00A Waco Convention & Visitors Bureau
10:30A-11:00A Prom Peru
3:30P-4:00P Visit Norfolk
4:30P-5:00P Los Cabos Tourism
Friday, November 6
9:30A-10:00A Philadelphia Convention & Visitors Bureau
10:30A-11:00A Galveston Island Convention & Visitors Bureau
WEC Grapevine will be a first-of-its kind industry event boasting a 100% fully live in-person and digital hybrid experience. In-person participants will experience innovative onsite Duty of Care to ensure the highest level of safety for all individuals in attendance, along with networking events and immediately actionable education. Participants of the WEC Digital Experience will gain opportunities through an event design focused on their remote environment with live, devoted concurrent education, peer-to-peer networking, entertainment, exclusive broadcast content and career coaching.
Media interested in attending any of the press conferences digitally can do so by accessing a devoted ZOOM link at https://mpiweb.zoom.us/j/9503422111 during the times listed. Those who would like to attend on a media pass can reach out to communications@mpi.org.
For more information about World Education Congress, visit mpi.org/wec.
MPI Media Contact: Peggy Foley, communications@mpi.org