Safety First at WEC Grapevine, Where Duty of Care Takes Top Priority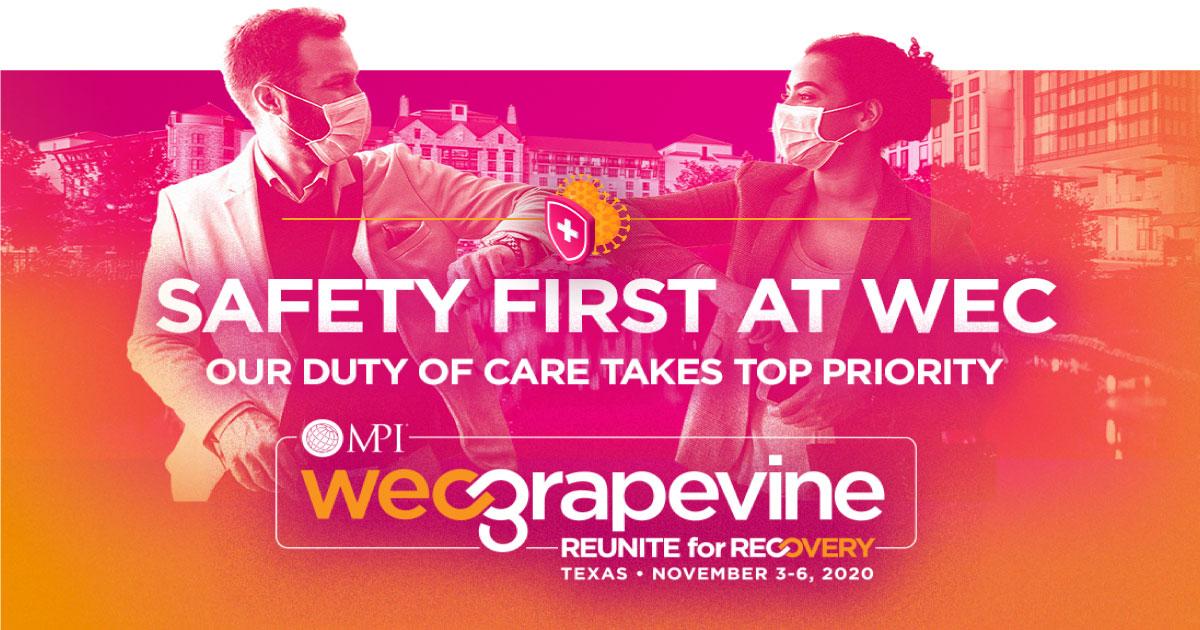 Hybrid in-person and digital event Nov. 3-6 in Grapevine, TX establishes case study on meeting safely
DALLAS, TEXAS, October 14, 2020: The August 2020 Meetings Outlook survey from Meeting Professionals International (MPI) showed that an overwhelming 86% of its respondents reported decreasing projected in-person attendance; compared to just 24% this past February. It's not surprising given the high level of uncertainty associated with how to meet safely in-person in the wake of the COVID-19 pandemic. The meetings and events community is therefore asking, "How can it be done?"
Answering the call from its community, MPI will host its signature annual event World Education Congress (WEC) in Grapevine, Texas from November 3-6, 2020 with the goal of providing industry professionals the blueprint on how to safely execute and deliver high quality education, networking and entertainment events that will help its community reunite for recovery.
The hybrid in-person and digital live experience, featuring an emphasis on Duty of Care, will be a first-of-its kind case study utilizing innovative procedures, technologies and methodologies to demonstrate how our industry can meet safely during this pandemic and manage the next level of event interactions. Its aim is to ensure optimal health, governmental compliance and sanitary conditions in all environments where in-person interaction take place.
"All eyes will be on WEC Grapevine," says Darren Temple, MPI's chief operations officer. "We have been bold in our commitment to deliver a robust live in-person and digital experience. Education is in the DNA of every WEC and this particular experience will yield a template that marries two uniquely different experiences, Digital and in-person, to educate and network simultaneously. MPI's WEC seeks to become the standard."
The experience starts before attendees arrive onsite – all in-person registrants will receive an Attendee Safety kit that includes their conference badge and lanyard, a facemask, sanitary wipes and hand spray and a touchless key for opening and closing doors. Also prior to arriving, attendees agree to participate in safety practices throughout the experience: physical distancing, wearing of facemasks, daily temperature checks and not attending if they have been exposed to or are showing symptoms of COVID-19.
Onsite, the event footprint was arranged with safety precautions top-of-mind that range from distanced seating in meeting spaces to individually packaged and/or indirectly handled food and beverage to abundant availability of hand sanitizing stations at each event location. Further, MPI partnered with In-House Physicians to provide onsite medical services throughout the event.
"It's incredibly important that we demonstrate to our community how safety protocols should be handled, because we believe this will be the future of meetings for quite some time," commented Melinda Burdette, MPI Director of Events. "At MPI, attendee care is always the highest priority and we have taken every precaution to ensure safety while not sacrificing experience – from the education to the networking to the food and beverage. If anything, these enhanced focal points have supplemented the experience."
To further demonstrate its commitment to clean, the host for WEC Grapevine, the Gaylord Texan Resort and Convention Center, a Marriott International property, recently received accreditation as a Global Biorisk Advisory Council (GBAC) Star facility. GBAC Star is the industry's only outbreak prevention, response and recovery accreditation for facilities.
In addition to the in-person experience, WEC Grapevine will also feature a fully live Digital experience where attendees will benefit from a meeting environment designed exclusively for them. All activities and engagement will be live; nothing pre-recorded or streamed without engagement. Keynote sessions will appear in a "late night talk show" environment with exclusive green room interviews afterwards. All concurrent sessions will take place exclusively for the digital attendees, with 18 available CMP clock hours.
For more information, visit mpi.org/wec. If interested in attending on a media pass, either in-person or digitally, please contact communications@mpi.org