Seeing the environmental damage that was a side effect of industrialization and innovations such as plastics in the mid-20th century, activist John McConnell knew he had to do something. So when he had the opportunity to speak at a 1969 UNESCO conference in San Francisco, McConnell proposed the idea of establishing a day to honor the planet—an effort to focus attention on what he and other radicals of the era felt was an issue of dire importance.
Earth Day was first celebrated five months later, in March 1970—a time during which it would have been hard to imagine major corporations doing good things for the planet, actually spending resources to consider the state of the environment and how they could help to improve it.
The business world and that of the meeting and event industry still has a long way to go, but the strides being made today will only make it easier for future sustainability programs to excel.
One of the most visible segments of the industry addressing sustainability issues is the convention center space. This is especially important, as convention centers serve many of the largest events. Following are some leading tales of convention center sustainability.
Vancouver Convention Centre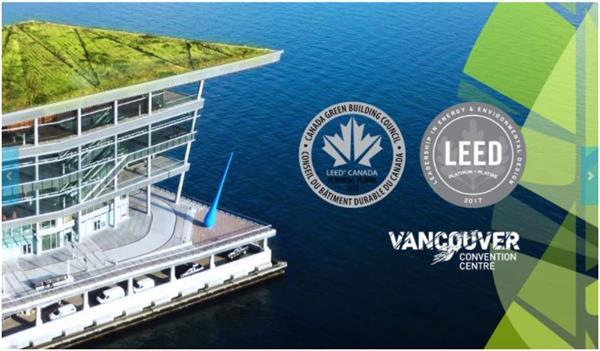 World's first double LEED platinum convention centre
The Vancouver Convention Centre (VCC) set as its mission to become a global leader in sustainability when it opened in 2009.
"We knew that we built it ahead of its time," says Jinny Wu, VCC communications manager. "We wanted all of these wonderful green technologies and features because we know that it helps us to be a good example in our industry; we set out to be a global leader in sustainability and hopefully make a difference in our community and inspire others to do the same."
In October 2017, the VCC received its second LEED Platinum certification (version 4), making it the first double LEED Platinum convention center. Another first for the VCC was its accreditation as a Healthy Venue by the World Obesity Federation in 2016.
The buzz about the 466,500-square-foot VCC isn't just due to its healthy site, waste diversion rate of more than 75 percent, a 30 percent increased capacity of its treatment plant for recycling grey and black water, a seawater heating and cooling system, installation of 900 presence-sensing LED lights, a restored marine habitat or a six-acre living roof habitat with indigenous plants attracting birds and insects (a frequent visiting research etymologist even discovered a species of wasp that hadn't been observed since 1932!). It also has four beehives, each containing up to 60,000 bees.
Visible from tall, light-filled windows in the VCC, the site of the beehives and occasional beekeepers helps to spur conversations about them and sustainability in general. Another benefit Wu cites is the use of the harvested honey in the center's locally sourced and seasonal Scratch Kitchen that is used in lots of great dishes—but he admits that the honey gelato is ridiculously good.
Jacob K. Javits Convention Center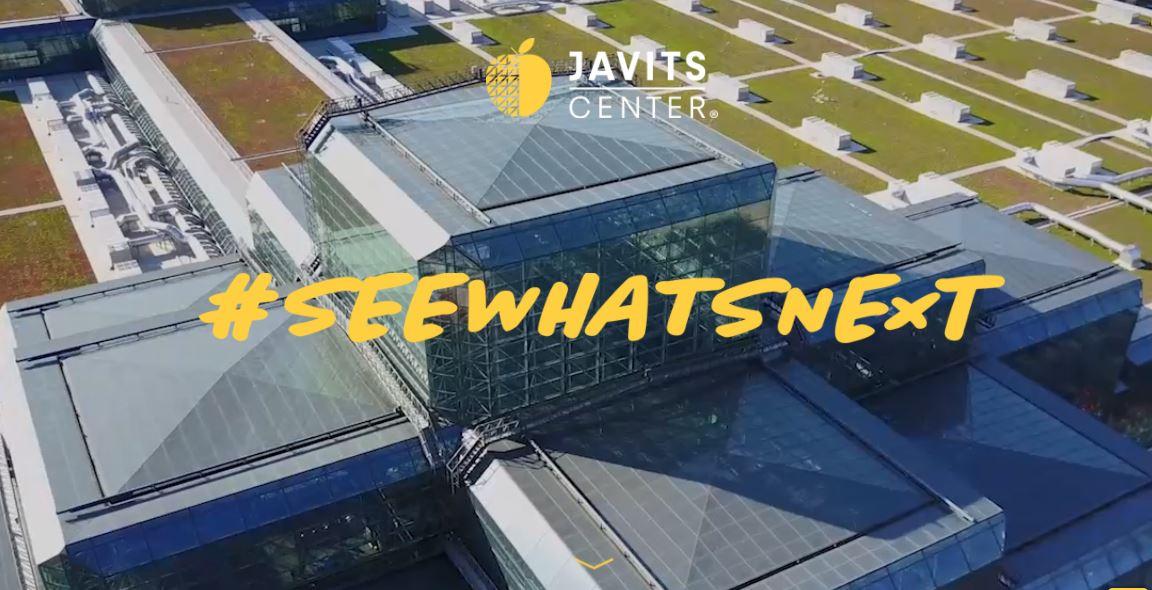 Bees are also buzzing at the Javits Center in New York City.
From 2009 to 2014, the Jacob K. Javits Convention Center in New York City underwent a top-to-bottom renovation. The signature feature was the installation of a 6.75-acre green roof—the second largest of its kind in the U.S., according to Tony Sclafani, senior vice president and chief communications officer.
"Following the renovation and the installation of the green roof, we began to form a new sustainability program and we've tried very hard to continue to diversify, expand and improve it," he says. "In April 2017, we installed three beehives on the green roof and approximately 12,000 bees were brought here from California. Our team of engineers worked with a local beekeeper to care for the bees and make sure that their environment is cared for properly. The purpose of bringing the bees here was to really explore the possibilities of this new ecosystem that lives on our rooftop."
Six or seven months later: harvest time. The center's engineers, in consultation with the beekeeper, extracted more than 250 ounces of gorgeous natural honey from the beehive frames.
"This was a major accomplishment because it signified how much has changed at the Javits Center in its relationship with the community and the environment," Sclafani says. "The Javits Center was once known as the No. 1 bird killer in New York City—but no longer. We installed more than 6,000 pounds of bird-friendly glass and with the green roof we've become a sanctuary for wildlife now. Harvesting the honey is really a symbol of how far we've come."
That honey is given away to customers and has been used to create an exclusive salad dressing (see recipe in sidebar).
The green roof has also driven partnerships with New York City Audubon and Fordham University—both institutions study the green roof and its impact on wildlife on a regular basis—and greater interest from planners as well as the public at large. To accommodate this interest, tours are open to the public throughout the spring and summer.
"More people needed to understand the type of transformation that has taken place here—the success of the green roof as a symbol of this organization's rebirth and the neighborhood's rebirth," Sclafani says. "Thirty years ago, this immediate neighborhood was desolate and very industrial—today, it's very much a vibrant community."
He says the No. 1 question from planners is, "Can I have an event on the roof?" Although that's not currently an option, an expansion project under way and set for a 2021 completion will add a rooftop event space with an adjacent green roof.
"This rooftop event space will be able to host up to 1,500 people for dinner, overlooking the Hudson River and the Manhattan skyline," Sclafani says. "We really do believe that this space will become one of the most exciting spaces in the city when it's completed."
Perhaps the most adorable sustainability project at any convention center, Javits Center is also leveraging feline friends for pest control.
"We worked with a local nonprofit association to introduce cats into the loading dock areas to help reduce the rodent population," he says. "Instead of using chemicals and having exterminators coming to the building repeatedly, we [went for] a more sustainable solution. By introducing cats to the loading dock area, we're able to really deter the number of rodents in our immediate area—the scent from the cats alone is enough to act as a significant deterrent for the rodent population. Since we introduced cats a few years ago, the employees feel better…and the loading dock area is virtually rodent-less."
The LEED-certified center also partnered with Cooper Union and Philadelphia-based Drexel University to study the impact of the green roof on storm water runoff and temperature reduction. In addition, the use of energy dashboards—central monitoring and control throughout the venue—has contributed to a 26 percent reduction in energy consumption.
"Our CEO Alan Steel made a conscious decision to take advantage of all the sustainable upgrades that had been installed throughout the building and to maximize their potential for the sake of the employees, the customers and the community," Sclafani says. "That philosophy of working close with the community, improving the quality of life for the community, is something that is now incorporated into pretty much everything we do."
Hawaii Convention Center

The Hawaiian culture is community at its core and champions aloha (kindness) and kuleana (responsibility). These values are the cornerstone of Honolulu's Hawaii Convention Center's (HCC) sustainability practices. Currently undergoing LEED certification, the HCC's focus on conservation and mindfulness of the environment concentrates efforts on energy efficiency, local sourcing, recycling and repurposing event-generated waste, water conservation, air quality and sustainable purchasing.
One area in which the HCC has achieved astounding success is its waste diversion rate. In 2017, HCC diverted 93 percent of its total waste from landfills, with 40 percent diverted to recycling and 53 percent diverted to the Honolulu Program of Waste Energy Recovery (H-POWER), the city's waste-to-energy plant. It is also one of 18 venues worldwide that attained 75 percent of waste diversion from landfills, as a proud participant in AEG's corporate environmental sustainability program AEG 1EARTH.
Teri Orton (MPI Aloha Chapter), general manager of the Hawaii Convention Center, adds that efforts will continue: "We are working on expanding our recycling and repurposing program with the goal of zero landfill waste."
Another amazing facet of the HCC's efforts to enhance the conservation of Hawai'i's natural resources while reducing its impact on the environment is its commitment to the Hawaiian Legacy Reforestation Initiative (HLRI) and sustainable forestry company HLH LLC. This has resulted in more than 340,000 legacy trees across 1,000 acres of denuded pastureland on Hawaii Island, creating the only legacy forest of its kind.
"In 2017, HCC contributed an additional 264 acacia koa trees that were planted through our outreach efforts," Orton says. "Continued outreach efforts are planned this year including forging partnerships with Hawaii hotels as well as educating meeting planners who have the opportunity to incorporate tree-planting activities as part of their outreach programs while in Hawaii."
Greater Columbus Convention Center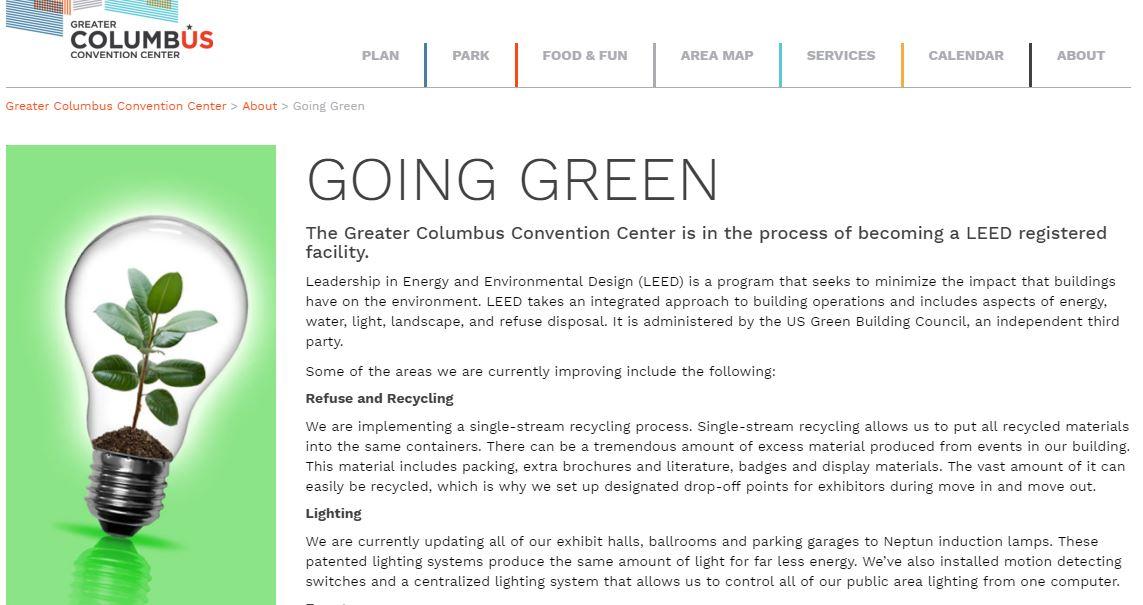 Lexi Sweet, public relations manager for Experience Columbus, says that the Greater Columbus Convention Center (GCCC) began its investigation and implementation of sustainability practices when they launched a US$140 million renovation (now completed) in 2015 and is in the process of pursuing LEED certification.
One outstanding aspect of this project was the creation of an indoor, hydroponic, vertical Smartfarm in the center's Discovery Café. More than 2.5 tons of produce are harvested per year and enhance both catered and purchased menus. Unused items are donated to local charities.
"The fact that planners can consult with the Levy (food-service provider for GCCC) catering staff in advance to arrange for specific types of herbs and vegetables to be grown for use during their event—such as mint for mint juleps—has been a very popular offering and further enhances responsible utilization of the Smartfarm," says Sweet, pointing out another bonus for event planners. "The wow factor for both planners and attendees has really been in seeing and utilizing the Smartfarm. Other facilities may have a living farm or green roof, but the Smartfarm is indoors, visible to all and is the greatest display of a grow-serve-donate plan in action."
Increased energy efficiency at the GCCC is the result of a dashboard-monitored, integrated HVAC system, Neptun induction lamps, motion-detecting switches and the installation of LED lighting throughout the 1.8 million-square-foot facility.
Additionally, the center has established a single-stream recycling program with a single drop point for excess materials. All cleaning products used are Green Seal, which further reduces chemical impact on the surrounding water, air and environment.
Minneapolis Convention Center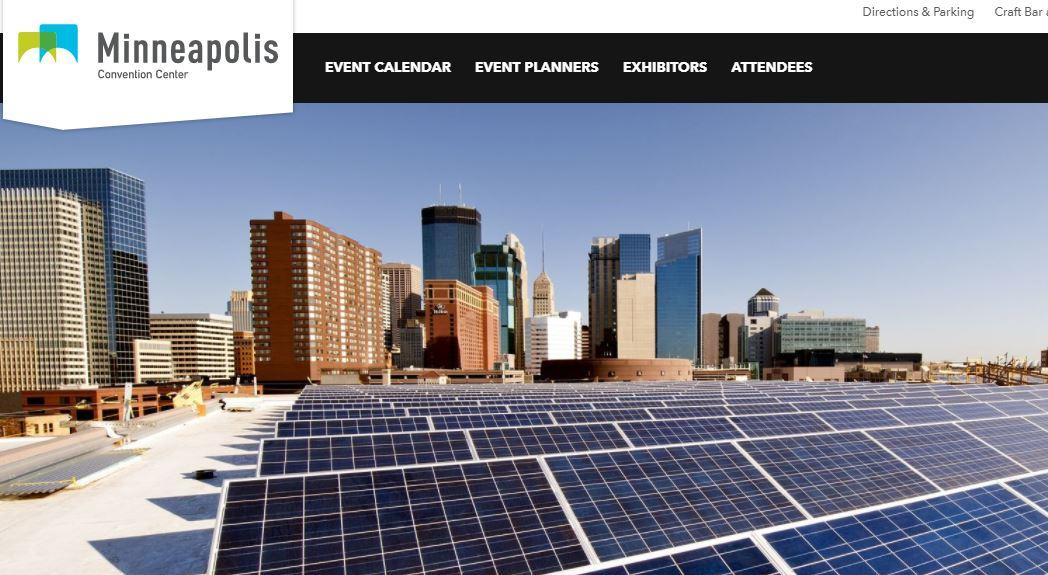 The Minneapolis Convention Center (MCC) occupies 27 acres in downtown. According to Mark Zirbel, director of event and facility services, the decision to build a pollinator garden to introduce pockets of nature for bees was almost a responsibility, considering they have so much space in the middle of the urban core. The adjacent Hyatt hosts the beehives. He says sustainability practices have enhanced the culture inside and around the MCC.
"We're here as hospitality professionals and we need to work together as a strong team and feel good about what we do and have confidence in the programs," he says. "Everyone feels better when they do the right thing. As a result, we have a strong sustainable culture inside our organization."
Zirbel believes all of the effort required to establish and maintain the MCC's energy-saving and recycling initiatives, among others, has enhanced how everyone on site works together.
"We put emphasis on three areas: waste, water, energy," he says. "We emphasize waste because it's the most tangible piece—the most employees in an organization touch that project—and when attendees come into our building that's something they see right away, and it's either done well or it's not."
The facility now has more than 200 quad stream recycling containers in the front of house that were tailored specifically for the MCC's business.
"Our food service operation purchases 100 percent compostable single-use items," Zirbel says. "So we really shifted our collection devices so we can collect those items."
As far as the sustainability programs go, the MCC recycles the majority of its waste.
"For the items we have total control over, the recycling is at about 100 percent," Zirbel says.
For the re-usable items left behind from trade shows, the venue works with local charities to donate as much of the material as possible. Food ingredients that go unused are donated to local groups as well, including People Serving People, the region's largest family focused homeless shelter.
"Attendees really expect to see that the building is operating responsibly," Zirbel says. "Leaders in this community expect government to have a no-waste mentality. All of those things together really put [sustainability] on a priority agenda for us."
The reduction of water usage has one highlight with the irrigation system at the MCC.
"The most substantial sustainability investment we have is our rainwater tank," Zirbel adds. "A year ago we put in a quarter-million-gallon tank to collect rainwater so it can be re-used for irrigation. Our site needs to be green and lush because that's what our guests want to see when they come here."
Additionally, the MCC has a rooftop solar array that provides "maybe 5 percent" of its electrical needs, he says. "Over the last year, we've been offsetting the rest of our energy use with renewable power."
The MCC was certified by LEED last year, but Zirbel believes other certifications are more valuable for meeting planners.
"When MPI was here in Minneapolis (the 2014 World Education Congress), they saw our sustainability programs and what we were doing and knew that we should work towards getting the APEX/ASTM (sustainable meeting standard) because we'd already done so much that aligns with how a meeting planner gets certification. The LEED certification is what attendees recognize, but it's really silly to compare it to the other certification—the [APEX/ASTM] certification really talks to meeting planners, providers and our industry."
Anaheim Convention Center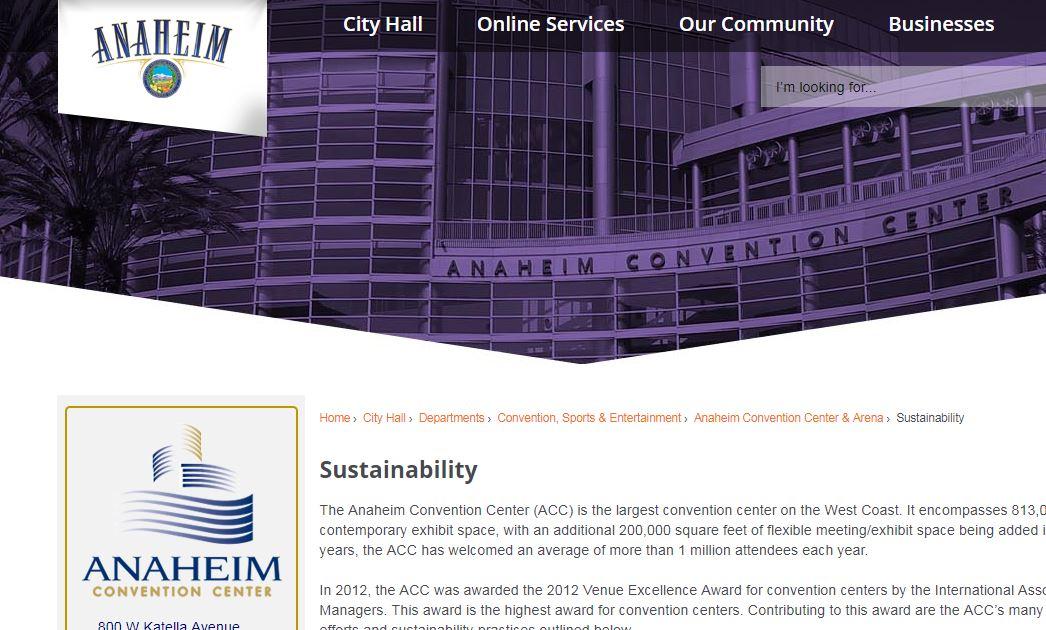 Currently, the Anaheim Convention Center (ACC) holds a LEED Gold certification and a 200,000-square-foot expansion of the convention center, opened in 2017, is seeking LEED Silver.
"To do this, we're looking at new sustainability measures to implement, ways to be more energy efficient and better ways to track all our efforts," says Erin W. Ryan, a communications specialist with the city of Anaheim.
The ACC has already instituted such sustainability practices as a 300,000-square-foot, 2.4-megawatt rooftop solar panel system, an onsite "Green Zone" composting center, a rooftop garden growing herbs and vegetables used to prepare meals at the center, water efficiency measures such as low-flow equipment, energy-efficient lighting and waste diversion by donation.
Ryan notes that they are beginning to see more requests for front-of-house sorting options.
Colorado Convention Center
The Colorado Convention Center established its sustainability programs in 2007, when Mayor (now Governor) John Hickenlooper announced that he wanted the upcoming 2008 Democratic National Convention (DNC) to be the most sustainable convention in the history of conventions, according to Lindsay Arell, LEED AP, founder of Honeycomb Strategies (though, considering her client list—the Colorado Convention Center, Red Rocks Amphitheatre, the Denver Performing Arts Complex, among others—she rightfully views herself as the sustainability program manager for the city of Denver).
Because of the energy around the DNC, she thinks a lot of great relationships were built to bolster sustainability throughout the city.
"We collaborated with Visit Denver to create a voluntourism program for event planners that are coming and want to include a CSR project—so we'll have [resources] if you want to do something with kids or the homeless or animal shelters," Arell says. "Additionally, the Colorado Convention Center adopted eight acres of land along the Platte River. It's nice and walkable and doesn't require transportation for attendees—they're able to spend a half day, kind of cleaning up the Platte Park area and working with a naturalist from the city, who is able to come and give a talk about the flora and fauna of the area and the history."
The scope of Arell's work is threefold: Ensuring successful program execution, tracking metrics and working with clients and the community.
"[The center] has three certifications right now. We're LEED certified. We're also certified to the industry standard ASTM APEX standard for event venues. Then we're also certified to the ISO 14001 standard," she says. "Being able to help maintain those and all that documentation is really important."
She also speaks with convention center clients to help guide them through the sustainability landscape and reveal ways in which their events can be more sustainable in the future, whether at the Colorado Convention Center or elsewhere.
"The sustainability piece might not be the [deciding factor for groups] to come here, but it's a nice program for them to tap into," she says. "Sometimes, it might be their first time ever really thinking about sustainability for their events—being able to work with them to build upon their program is pretty neat."
The center can also provide customized sustainability reports, post-event, to show energy and water consumption, waste diversion, the percentage of food that's local and/or organic, etc.
"If we have [data] from planners, we're able to then break all of that down to per-attendee and show the overall impact per attendee," Arell says.
Communication with the community about what the center is doing is also essential.
"Collaborating with Visit Denver and hotels, we're really trying to create a true sustainable destination," she says.
That can be seen in the Denver Arts & Venues Sustainable Event Planning Guide that Arell assembled.
"The Colorado Convention Center program is much more built out, for sure, but to be inclusive, we also have information about Red Rocks in there and the Denver Performing Arts Complex and culture park," she says.
The center also regularly discusses sustainability with other venues to help spread best practices throughout the industry.
"We all have very similar challenges," she says. "Waste management practices are becoming more consistent to some degree, but still challenging. It's hard because there are certain venues and municipalities that can support different programs."
The Colorado Convention Center averages about a 50 percent waste diversion rate, Arell says, but they're always looking to expand that.
"We really want to hit 60 percent," she says. "We're looking at creating more consistency beyond the convention center and the city-owned venues, for the city of Denver. Say you're bringing a citywide convention, being able to say, 'When you come to the Colorado Convention Center, your recycling goes in there. If you're going to an auxiliary event, they'll offer the same type of programs.'"
When it comes down to the excitement, proliferation and future of sustainability programs at meeting and event venues, Arell says one of the most important things planners can do is to ask suppliers what they're doing to be sustainable.
"Begin that conversation," she suggests. "When a planner asks me about sustainability, it reinforces that this is valuable and it also sparks our team to make sure we're really focused on doing the best that we can do. That's an important piece that some planners maybe don't realize—the power of their ask and really putting importance on sustainability."
Boston Convention & Exhibition Center and John B. Hynes Veterans Memorial Convention Center
"At both the Boston Convention & Exhibition Center (BCEC) and the Hynes Convention Center, we are committed to implementing industry-leading green practices," says Bojura Angelova, public relations specialist for the Boston Convention Marketing Center, an organization that markets and sells both properties. "Energy, water and waste conservation are the focus of our daily operating strategy. We minimize power consumption through sensor-controlled utilities, high-efficiency lighting and operations strategies that allow us to minimize usage in non-occupied spaces. We are also committed to using green products whenever possible—from our daily disinfectants to our vacuum cleaners, more than 80 percent of our cleaning products are environmentally responsible."
The centers' stats are incredible: 1,000 combined tons of materials are recycled annually and more than 30 tons of food were donated to local organizations in 2016. Their Conventions C.A.R.E program donated around 40 tons of food so far in 2018. The BCEC and Hynes boast nearly 70 percent diversion of total waste.
Just one ecologically minded event held in November 2017, the Greenbuild International Conference and Expo—the annual conference of the U.S. Green Building Council—donated 13 tons of building material and furniture to the Gavin Foundation and Habitat for Humanity.
"We believe that the event industry is an incredibly powerful catalyst of social and environmental change and as an organization that hosts numerous significant local and international events, our goal is to lead by example, raise awareness and inspire changes and innovation across the board," Angelova says.
---
SIDEBAR
Jacob's Honey Vinaigrette
From Centerplate Chef Bill Miller – Javits Center
1 Garlic Clove - minced
1 tsp Shallot - minced
1 tbs Prepared Mustard
1 1/4 cup Cider Vinegar
3 tbs Honey
¾ cup Cold-pressed Sunflower Oil
Salt and Black Pepper to taste
Place garlic, shallot, mustard, vinegar and honey in a blender. Pulse on low until mixed well. With blender running on low, add sunflower oil in a slow steady stream until all is emulsified. Season with salt and pepper to taste.
SIDEBAR
Paris Convention Centre Debuts
The new center features a green roof and debuted in November within the Paris Expo Porte de Versailles exhibition complex, which is undergoing a 10-year renovation project through 2025. The centre complements the Palais des Congrès de Paris and features a 5,200-seat plenary hall connected to approximately 475,000 square feet of exhibition space.
The center's airy and light-filled interior offers a breathtaking view of Paris. The plenary hall is the largest in Europe, and it offers a glass roof so that conferences can be held in natural light. Every conference room is furnished with smart and adaptive speakers that offer high-quality sound and create an ideal acoustic environment for visitors. The Atrium conference rooms feature connected furniture and the latest audiovisual equipment.
"The Paris Convention Centre will be a crown jewel in our efforts to boost the appeal of Paris and the region," says Didier Kling, chair of the Paris Île-de-France Regional Chamber of Commerce and Industry. "The site has been renovated, reimagined and given a new identity to help [place] the Greater Paris region at the top of the meetings and corporate events industry. This sector accounts for €5.5 billion in economic benefits for the region and more than €20 billion in turnover for exhibitors. With no public financing, Paris Expo Porte de Versailles will become the epicenter of Paris' ambitions in the field of conferences and trade shows."