eaPhoto: Susan Beard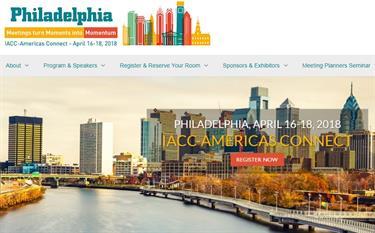 Mark Cooper's final message to attendees at the IACC-Americas Connect 2018 conference centered on this theme:

"Innovation relies on managed serendipity—the ability to leverage the productive collision of people and ideas through the right tools and the right places."

It was those words that inspired Cooper and his team to build a conference around a theme of "Meetings Turn Moments into Momentum," and the results were impressive.

Nearly 300 meeting venue professionals from around the world gathered in Philadelphia to explore the latest trends and innovations in meetings through campfires, workshops, culinary tours and tastings.

Sessions ranged from food and beverage—including the popular Copper Skillet competition—to technology, innovation, leadership and unique education formats.

"The goal this year was to make everything we did experiential in some way," Cooper said. "Our focus every year is to change things up a bit. That's the driver. It's important to make changes. As I reflect, I think people enjoyed the
conference, but we need to keep stepping up. We'll change it up again next year."

An enthusiastic Laura Schwartz, editor of Eat, Drink & Succeed and former White House director of events during the Clinton Administration, was both a keynote speaker and conference moderator, bringing a unique style and cohesion to the conference.

Cooper also incorporated sessions at a second venue, moving attendees on the second day of the three-day event to the Franklin Institute in downtown Philadelphia from the Chubb Hotel & Conference Center in Lafayette Hill, Pa., without a hitch.

This was the 37th annual conference for IACC, which is comprised of members from 25 countries representing small- to medium-sized, globally certified venues focused on meetings, training courses and conferences. Members adhere to a set of quality standards in physical meeting room design and food and beverage service-related standards to enable meeting planners to have a greater understanding of venues.

The tone of the conference merged with findings from the IACC Meeting Room of Future research, which Cooper discussed during a session. He said neuroscientists and cognitive psychologists report that the more participants' senses are stimulated, "the more memorable the meeting experience will be for them because more parts of their brains are activated. This helps them absorb and retain information more effectively. This creates more engagement at the event."

There were 250 respondents to the survey from five continents, including distribution among planners from corporate, association and government meetings. Among the key findings:
80 percent of planners report their role involves more experience creation, up five percent from last year.

75 percent of respondents report experience creation will become more important.

Respondents believe the space outside of the meeting room is as important as the space inside.
"The attendee experience and how it affects our venues was quite evident," Cooper said of the findings. "It's knowledge that tells us we need to be better prepared and that's for all of us, the venue and the meeting planner."

Cooper said the attendee experience does not necessarily rely on how much money is spent, "but how many positively memorable moments the participants can recall."

"Write out what participants will see, hear, smell, taste and touch," he said. "How many of the senses can you include in each exposure to make it positively memorable?"

Food and beverage trends were featured throughout the conference, including a general session moderated by Schwartz. The session explored such topics as profitable cocktail parties, personalization of food and safety, risk management issues and the possibility of 3D-printed food. There was much discussion on understanding special food requirements and how event planners and venues must work together in planning F&B.


"Everyone has a different background and we need to manage expectations," said Felix Maietta, executive chef for Sodexo Leisure Services at Chase Center on the Riverfront in Wilmington, Del. "We still need to exceed those expectations. People shouldn't have to change their eating habits to attend an event."
He added that he can do anything in the kitchen, but cost does become an issue.

"A lot of venues do multiple events and it's not possible to do customized menus," he said. "It all sounds great and wonderful and adventurous, but it's just not cost effective. We can produce reasonable accommodations."

The panel emphasized the importance of communicating early in the planning process about food allergies, dietary restrictions and other special needs that need to be addressed.

The Copper Skillet competition final was also decided between five chefs from the Americas, Europe and Australia-Asia Pacific battling for the coveted Global Copper Skillet Championship for 2018. Designed to highlight the artistry and skills of IACC-member conference venue chefs from around the world, the chefs created an entrée using contents from a mystery basket in a timed competition. Leanna Higgs from Wyboston Lakes in Bedfordshire, UK, won the junior division, and Brian Wagner from the Chauncey Hotel & Conference Center in Princeton, N.J., won the senior division.


"The quality of the food created at this competition was superb, the best of the best in conference catering," said Lina Merchant, director of sales at Ivey Spencer Leadership Centre, Dolce Hotels and Resorts. "Food and hospitality is one of the most important elements of any conference and event. Yes, guests will walk away with the knowledge from the event, but they'll talk about food when they leave."

Attendance at the event marked a 33 percent increase from 2017, and its strongest attendance in 10 years.

"We saw record attendance at this year's annual Connect conference, which validates the improvements we've made by directly involving the meeting planner and university student communities into our signature industry event," said Sean Anderson, IACC Americas president. "This growth also illustrates the rising stock value of IACC across the meetings industry as more than ever, planners look to their venue partners as co-owners in creating the ideal event experience—the IACC Experience."
Meeting Professionals International (MPI), the world's largest association for meeting and event professionals, and IACC have a global partnership that focuses on areas such as education and research initiatives. The five-year agreement, announced last year, includes sharing event and learning platforms, including education delivered at annual conferences, regional events and online, as well as research initiatives. Nearly two dozen members of the MPI Philadelphia Area Chapter attended the sessions throughout the conference.