Our latest survey exploring the novel coronavirus' impact on the meeting industry and our global event community was initially launched to identify events still scheduled to take place. That original intent was upended as jurisdictional lock downs spread around the world—cities, states/provinces and entire nations.
However, we built into the survey additional questions to help elucidate the current situation. In the field March 13-23, the survey elicited responses from 830 meeting professionals worldwide (59% planners, 36% suppliers, 5% student/faculty/other).
Cancellations are Widespread
An unprecedented 96% of respondents have experienced cancellations due to the novel coronavirus. Given how this situation has evolved, that's not much of a surprise, but it's sobering to see this presented visually.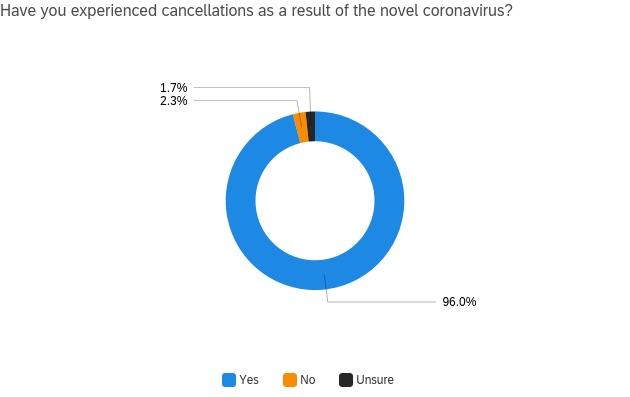 How many meetings/events have you had to cancel due to the novel coronavirus?
While more than half of respondents (53%) experienced 10 cancellations or fewer, alarmingly one-quarter of respondents reported having to cancel more than 25 meetings or events.

Business Impact
The majority of all respondents (59%) envision the virus affecting their business "a great deal"—add those expecting "a lot" of impact and you've got 83% of all respondents.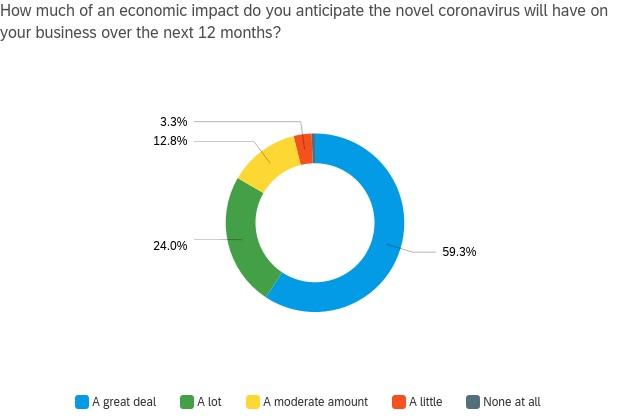 The data gets more interesting when evaluating the split in predictions from planners and suppliers. Most notably, 95% of suppliers are anticipating "a great deal" or "a lot" of impact on business from the novel coronavirus over the next year, whereas 77% of planners expect the same.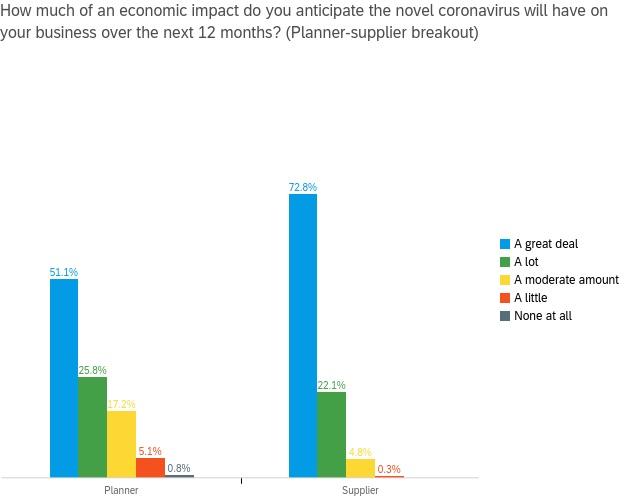 The numbers are a bit more optimistic when viewing the virus' effect on business two years out. Of course, there's also more conjecture when trying to envision the landscape that far out as this pandemic is something the modern world has never experienced. (There was no significant difference in this data when comparing planner and supplier responses.)
EU to U.S. Travel Ban
These specific travel restrictions are expected to be more of a problem for respondents from non-U.S.-based organizations. (Of course, since the launch of this survey, numerous nations have closed their borders and/or are severely restricting entry based on country of origin and/or places travelled. As such, this is just a snapshot of the anticipated impact of one such international travel limitation.)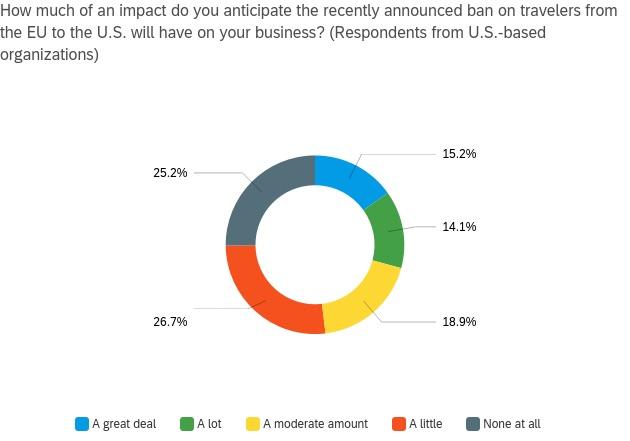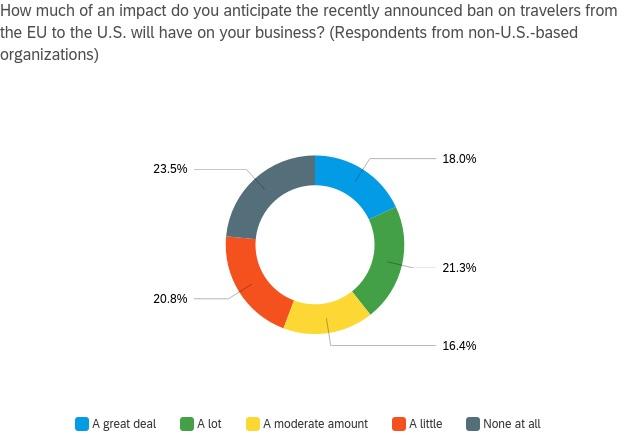 Job Security
The vast majority of all respondents are quite concerned about job security due to the virus, with more than half (54%) reporting "a great deal" or "a lot" of concern. However, this gets more interesting when separating out planner and supplier responses.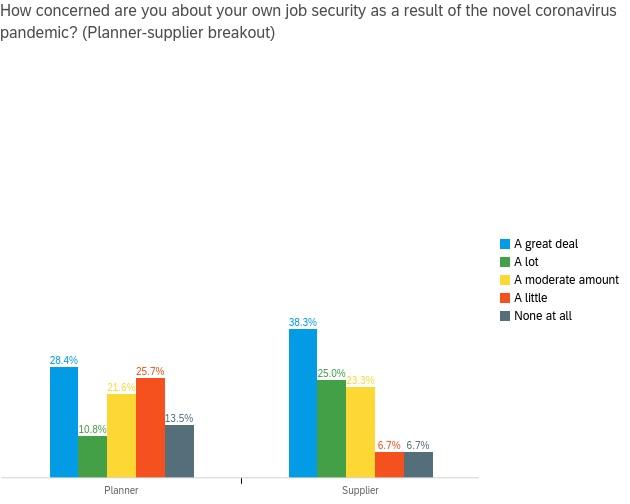 The breakdown of job security stress between planners and suppliers reveals that suppliers show the greatest degree of concern. This is likely not a shock, but it does help quantify the extent to which our industry peers are worried about employment.
Essential Education NOW!
Respondents ranked the following 10 categories of education based on which were deemed to be most important at the moment.
Safety and Security
Strategic Planning
Legal and Compliance
Leadership and Change Management
Technology
Sales and Marketing
Project Management
Corporate Social Responsibility
Career Development/Growth
Event Design
Immediately before the novel coronavirus pandemic, this list of most important education categories looked very different. Sure, "safety and security" has been one of the top subjects of interest for quite a while, as reported by MPI's quarterly Meetings Outlook research, however, "event design" was often found near the top of the list, too. Clearly, when your industry is totally upended by a quickly spreading virus, "strategic planning" and "legal and compliance" understandably become even more important as they can help industry professionals navigate the turbulent seas. As this pandemic continues, expect "career development/growth" to climb higher on this list.