Photo: Peter Wynn Thompson

The English word "flavor" debuted in the late Middle Ages in reference to fragrance or aroma. Today, when someone mentions flavor, it is in reference to taste. While taste does play a role in flavor, it is smell that is the primary component. For example, wine connoisseurs put their noses in glasses before drinking, and watch the judges on Top Chef—they all bend down and smell the dishes before eating them.

Smell's role in flavor can't be understated, and its control is a huge market. Those who work with flavors, manipulating or creating them, consider themselves positive influences in the world.


We make the world a much better place," Ewan Morgan, national director for the Diageo Reserve Program, said at Flavorcon 2018. "We make people smile because we are in charge of these flavors."
Flavorcon
Flavorcon is a global, interactive conference and expo designed for scientists, flavorists, product developers and consumer packaged goods companies. Produced by Perfumer & Flavorist magazine, an Allured Business Media publication, Flavorcon 2018 was held in Atlantic City, N.J., in November. It featured more than two-and-a-half days of presentations, attracted more than 550 attendees and showcased more than 40 exhibitors from 24 countries.



"Flavorcon 2018 was a tremendous success," wrote Deniz Ataman, Perfumer & Flavorist managing editor and Flavorcon conference director, in the magazine's recap of the event. "We've expanded our conference to include more food and beverage manufacturers to bring the flavor value chain closer together. And we introduced a dynamic experiential exhibit hall for everyone to meet, talk and taste face to face."

The event has seen a 45 percent growth in attendance since its launch in 2015, and a big part of Flavorcon 2018's success is due to Harrah's Resort Atlantic City's help in the planning process.

"We have one contact, one contract and one food and beverage minimum," says Steve van der Molen, vice president meeting operations - Atlantic City region for Caesars Entertainment. "This means our customers have one point of contact who can get everything accomplished regarding planning their conference."

He says this makes it efficient and easy for customers, affording them the opportunity to experience all the great venues, the pool and Harrah's restaurants, receiving credit toward their food and beverage minimum.

"We also work with Encore Event Technologies for the audiovisual needs of the group, and Dan Ryan with Encore is very committed to the success of the program," van der Molen says. "They have all the resources available you can expect from a national audiovisual company."

Maria G. Prior, CEM, director of events for Allured Business Media, says Denise Savastano, catering and convention service manager for Caesars Entertainment, and her entire team deserve eternal gratitude for helping produce an amazing event.

"Stephanie Nieszel, our national sales manager for Caesars, made the contract process painless," Prior says. "Kudos to Chef Alfredo Varela, who created a wonderful menu that the flavor community thoroughly appreciated. A special thank you to the catering managers and staff that covered our event."

According to Savastano, the meal events stood out at Flavorcon, which is fitting for a conference based around food and beverage.

"Each day had a specific theme, and the menus reflected the theme," she says. "The attendees loved all of the food during the conference, thanks to our culinary team and Chef Varela. They always create something unique."

Prior says she would be remiss if she didn't give a shout out to Tanya Curran, CMP, national account director with Meet AC, who made the event possible.

"Atlantic City showed our guests the best hospitality and paid attention to our group's needs," Prior says. "The CVB was instrumental in helping us select a venue that created great energy at the conference and flavor expo as well as great networking opportunities for this niche industry."
The Global Market
According to Allied Market Research, "the global food flavors market was valued at US$13,172 million in 2017, and is expected to reach $20,106 million by 2025, registering a CAGR [compound annual growth rate] of 5.4 percent from 2018 to 2025."

Technological innovation, new flavor inventions and huge research and development investments are the main factors driving the industry's growth. And because consumers are more health conscious these days and natural food products are on the rise, natural food flavors are trending upward.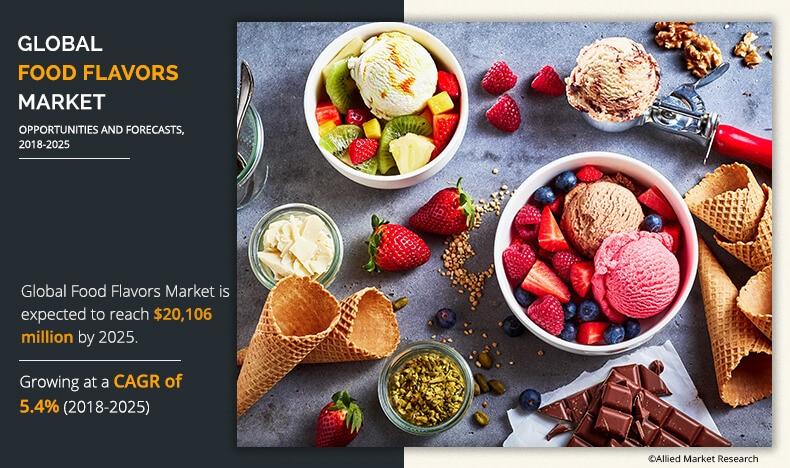 "Natural food flavors have gained high popularity among consumers in recent years due to increase in demand for unique and exotic flavors and unusual flavor combinations, such as exotic and classical fruits," Allied Market Research reports. "Moreover, adverse effects such as dizziness, nervous system depression, fatigue, allergies, nausea and others can occur, owing to chemicals used in artificial flavors. Therefore, consumers prefer natural food products over the ones containing artificial additives or flavors."

Some of the top flavor innovations in 2018 and beyond, according to Mintel's US Flavor Trends 2018 report, include less sweet desserts, spicy blends and international spreads.

"Flavor is an ever-evolving art, ripe with opportunities for interpretation, innovation and creativity. Today, that opportunity lies in the expansion of international flavors and ingredients, and in the years ahead, we predict the ingenuity of new dishes will come down to enhancing the chemistry of ingredients to create hearty masterpieces," Amanda Topper, associate director of Foodservice Research at Mintel, said in a prepared statement. "The future of flavor also lies in creating healthy dishes without giving up satisfying taste."
Trends and Innovations
At Flavorcon 2018, a variety of sessions covered these types of trends, and a new element was added: the Innovation Stage.

"It was a new addition we wanted to try out, and it was extremely successful," Prior says. "It gave our attendees an additional opportunity to hear from conference speakers as well as participate in exhibitor-focused education."

Some of the topics covered on the Innovation Stage were "Developing an Ecosystem of Safety Solutions" presented by Jesse Coiro, director of business development and sales operations at Erlab; "Augmented and Virtual Flavors" presented by Nimesha Ranasinghe, PhD, assistant professor, School of Computing and Information Science, University of Maine; and "Authentication of a Flavoring Substance: The Vanillin Case" presented by Corinne Duffy, technical marketing manager at Solvay.

Sessions addressing topics such as the world of specialty peppers, flavors for oral care and citrus varieties were also popular with attendees. The experiential economy also showed up in the session "Food Today: What's Brewing & Cooking," presented by Amy Marks-McGee, founder of Trendincite.

"Marks-McGee started her presentation with a look at the emergence of food museums like the Museum of Ice Cream and The Cado (an avocado-themed museum) and how consumers, especially Millennials, flock to them for Instagram-friendly photo opportunities and interactive experiences," Perfumer & Flavorist reported. "Similarly, restaurants, bars and cafes have found other ways to create memorable experiences, including speakeasy-style bars and Harry Potter-themed events."

Other trends Marks-McGee pointed out included product crossovers ("Taco Bell chips, Sour Patch Kid yogurts and Hellman's ice cream") and creative packaging ("cold/heat sensitive labels, VR/AR packaging and beverages in the shape of the product's flavor").

"We had an outstanding conference program filled with thought leaders addressing the needs of flavor professionals," Prior says.

It wasn't all session focused, though.

"We hosted a dinner reception at the Harrah's pool," Prior says. "It was a great networking event that connected or reconnected industry peers."
Atlantic City
Caesars Entertainment has three properties in Atlantic City, N.J., and has been instrumental in the city's resurgence as a meeting and event destination, investing more than US$250 million in its area casino-resorts over the past four years.

"Atlantic City is recognized as a meeting and convention destination, hosting regional, national and international conventions and trade shows," says Steve van der Molen, vice president meeting operations - Atlantic City region for Caesars Entertainment. "It's friendly and hospitable, and everyone wants to put the guest first. The communities and employees know the impact of great service. And our customers support the communities, too, by engaging in outreach programs such as Boys and Girls clubs or Clean the World."

Caesars Entertainment has helped Atlantic City grow by investing in the $125 million Harrah's Waterfront Conference Center, and ambitious plans for the future include a $56 million guest room and suite renovation for Harrah's Resort Atlantic City's Coastal Tower (to be completed this year), which follows a $40 million renovation to the Bayview Tower in 2017. The company has also brought in celebrity restaurants, such as Gordon Ramsay Steak at Harrah's and his Pub & Grill at Caesars, Guy Fieri's Chophouse at Bally's and Guy's Sammich Joint at Harrah's.

"All these investments created jobs and opportunities for further growth in our meeting and convention market," van der Molen says. "We see that our competitors have also invested in product and services, and new hotel openings are lifting the entire market."

Atlantic City is easily reachable by air via Atlantic City International Airport, John F. Kennedy International Airport, Newark Liberty International Airport or Philadelphia International Airport. Also, one-third of the U.S. population lives within a three-hour drive of the city, which helps attribute to increased attendance at conferences and events.

"Atlantic City is a thriving city with plenty of great entertainment, shopping and restaurants for convention guests to enjoy and experience," van der Molen says. "It offers great value and great service."